Yingde Chairman's Buyout Deal Hampers Sale Process, Ousted Founder Says
By and
Board spat persists before shareholders vote to choose sides

Chinese company says it will pursue the auction process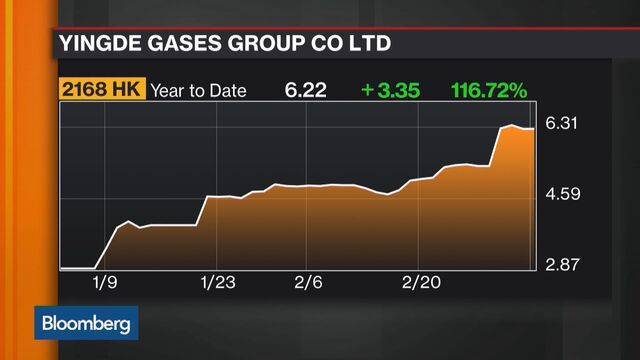 Yingde Gases Group Co. Chairman Zhao Xiangti's agreement to sell his stake to a private equity firm undermined the chance of a better deal from other potential buyers, according to an expelled founder fighting to regain management control.
The allegation against Zhao is among the latest in the war of words between the three estranged founders of the Chinese company as a public boardroom fight drags on into its fourth month before shareholders vote Wednesday to decide who gets to control the gas producer. The three directors announced this month that they agreed to sell their combined 42 percent stake to PAG Asia Capital for HK$6 a share, even as Air Products & Chemicals Inc. accused Yingde of obstructing its earlier offer of HK$5.50 apiece.
When Zhongguo Sun and associate Trevor Strutt first decided to sell their holdings to PAG, the purpose was to kick off a bidding war for Yingde, Sun said in an interview in Hong Kong Monday. The two weren't aware Zhao would also accept the offer, a surprise move that boosted shareholder acceptances close to a level that makes PAG's bid unconditional, he said.
"He actually just boxed everything in," Sun said. "It could have a lot more potential interested buyers. With this box, a lot of people are scared away." The allegation is neither true nor has substance, Yingde said in an emailed statement Tuesday.

Zhao signed the binding pact with PAG a day after Sun and Strutt -- all agreeing to sell out if the Hong Kong-based private equity fund received acceptances for more than half the shares. That leaves just 8 percent of remaining investors to tender their stake for the accord to come into effect, which would pose an obstacle for any rival bidder, according to Sun. PAG's offer values Yingde's equity at $1.46 billion.
The agreements signed by Sun, Strutt and Zhao "have exactly the same terms and conditions," which include a suspension clause if a competing offer is received at a price that is at least 5 percent higher than the PAG proposal, Yingde said in the statement. "Accordingly, it is not true and not fair to say that Zhao's signing of the MOU was to suppress or frustrate bidding while Mr. Sun's and Mr. Strutt's signing of the MOU with the same conditions was to encourage the bidding," Yingde said.
Tim Morrison, a Hong Kong-based spokesman at PAG, declined to comment. In a filing to the city's stock exchange Tuesday, PAG said its deal, if successful, will "fundamentally resolve severe internal rifts inside the company."
Separately, Sun and Strutt said in an emailed statement Tuesday that they have filed a complaint to the Hong Kong police's Commercial Crime Bureau, seeking a probe of alleged wrongdoing including "false statement" by Zhao and others. 
The local police media department said in an e-mailed response to Bloomberg queries that an investigation by the bureau is underway. Yingde said it hasn't been contacted by the bureau about any investigation on any matter related to Zhao or any other officer or employee, according to an exchange filing Tuesday.
For an inside view of the boardroom dispute, click here
Zhao has informed the company that these allegations are "baseless and spurious" and "nothing more than a diversionary tactic, deliberately announced one day before the EGMs, to distract all parties from the ongoing sale process," Yingde said in a statement Tuesday.
The suspension clause still leaves the door open for Allentown, Pennsylvania-based Air Products. 
The U.S. firm has said it may be prepared to increase its offer to HK$6 a share after completing a detailed review of Yingde's financial information. Though the PAG deal has stymied its attempts, the world's largest producer of hydrogen said last week that it still planned to pursue the Chinese firm. Its earlier offer was non-binding and subject to antitrust approval from China. A representative for Air Products didn't immediately respond to a request for comments.
Shares of Yingde have more than doubled in value this year and closed at HK$6.22 on Friday in Hong Kong. Trading was suspended Monday, pending an announcement.
The directors' demand for a binding, unconditional offer without extended due diligence also highlights the difficulties western firms face while competing for acquisitions in China. If Air Products were to be successful, it would result in the biggest U.S. takeover of a Chinese company in more than a decade.
The major shareholders struck the deal with PAG because it was unconditional and not subject to due diligence and antitrust approval.
The PAG agreement "sets the template for the game to go on," Sun said. "We did that because we believe this is the best for shareholders. Get something binding and unconditional on the table and get the ball rolling." At least five other financial investors have expressed interest in bidding for Yingde, Sun said.
— With assistance by Lisa Pham, and Jack Kaskey
Before it's here, it's on the Bloomberg Terminal.
LEARN MORE