Xi Highlights Shanghai, Li's Blue Sky Goal: Eye on Chinese Media
Bloomberg News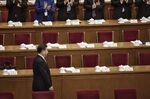 President Xi Jinping highlighted Shanghai in his speech to lawmakers from the city Sunday as the national legislature convened its annual session, according to People's Daily, the Communist Party's flagship newspaper. China's wealthiest metropolis should be a bridgehead in the country's market reform push and speed up efforts to become an "international city with socialist characteristics." Such praise by the core leader, who served as Shanghai party secretary in 2007, often foreshadows policies being implemented.
China doesn't want a trade war, former commerce minister Gao Hucheng said during the legislative session, according to the official Xinhua News Agency. The comment may be a more clear message on the potential for trade tensions from Chinese officials, who are often willing to speak more freely after retirement.
Premier Li Keqiang plans to "make the skies blue again," the Xinhua News Agency reported, citing his work report to the National People's Congress. Clearing up heavy pollution has emerged as a top priority for the leaders in Beijing.
A village in the southern island province known as China's Hawaii will become a destination for the country's space race. Hainan's government is encouraging farmers to cultivate and sell vegetables grown from seeds developed in experiments in space, China Daily reported. China's leaders aim to catch up to the U.S. in space exploration.
— With assistance by Keith Zhai
Before it's here, it's on the Bloomberg Terminal.
LEARN MORE