With Carnival Over, Brazil Braces for the 'End of the World'
By and
Two ministers leave government as corruption claims continue

Discontent in Congress threaten passage of key pension reform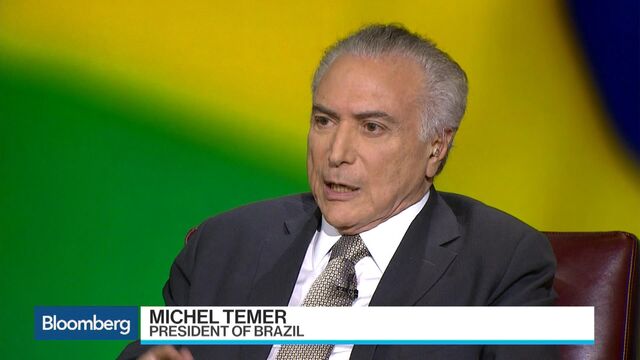 Brazil's unpopular and unelected president, Michel Temer, has done much to pave the way for recovery in Latin America's largest economy. Yet with his inner circle crumbling and support in Congress wavering, an ambitious reform agenda now looks like a tall order.
After losing half a dozen cabinet members in his first six months in office, Temer's foreign minister has departed and his chief of staff's future in government remains uncertain. At the same time, part of his party in Congress has rebelled in a struggle for power. Neither bodes well for the passage of a pension bill requiring Brazilians to work longer.

Since taking office in May, Temer has won praise for privatizing swathes of Brazil's infrastructure and opening up its oil fields to foreign companies. His administration also steered a controversial spending cap bill through Congress, helping to strengthen the real. The stock market is up 72 percent in dollar terms over the past year. But failure to defuse the pension time bomb would nullify the government's earlier achievements and pave the way for a widespread asset selloff.
Complicating the political scenario is the imminent publication of the so-called "end of the world" plea bargain testimony from Odebrecht executives involved in the Carwash corruption scandal. Analysts expect politicians from all of Brazil's major parties to be implicated.

"The market today is not pricing the risk from this troubled political environment correctly," said Rafael Cortez from Tendencias Consultoria. "The situation is very delicate."
Brazil Seeks a Way Back From Slump, Scandal, Turmoil -- QuickTake
Indeed, in the streets the sense is that Brazil has not yet emerged from a crisis that has shaken the country's economic and political foundation to the core. Consumer prices are rising less and borrowing costs are falling. But many Brazilians are still struggling to make ends meet, and unemployment is at its highest level on record. Civil servants, including police, have protested over austerity measures in several states, and anti-corruption demonstrations are planned for later this month.
At the same time, rumblings of discontent with the pension reform are growing louder in the lower house. Last week, a senior deputy from Temer's own Brazilian Democratic Movement Party, or PMDB, threatened to break with the government and rally opponents of pension reform.
Meanwhile, half of the special congressional committee examining the legislation are opposed to one of its central tenets - a minimum retirement age - according to a survey published by Folha de Sao Paulo.
Ministers' Departures
Two more ministers quit in the week before Carnival. Jose Serra, the foreign minister, resigned citing health reasons while Eliseu Padilha, Temer's chief of staff, took time off for surgery. He was due to return to work on Monday but his period of medical leave has now been extended, a government official with knowledge of the matter said. Both Serra and Padilha have faced allegations of corruption, though neither has been charged and both deny wrongdoing.
Padilha is one of Temer's closest allies and a key operator behind the scenes, who helped to shore up legislative support for the government's agenda. Though he is due to return to his post, the corruption allegations have weakened his standing, according to Andre Cesar, an independent political analyst.
The uncertainty surrounding Padilha's future follows the departure of his chief congressional liaison and other members of Temer's inner circle, just as his previously solid legislative support base starts to crack.
"The government is losing its key administrators just at the moment it needs them the most," said Carlos Melo, a political scientist and professor at the Insper business school.
Against the Clock
With Carnival now over, Brazil's politicians are finally heading back to work. A general election is due in October 2018 so the government only has a limited window of opportunity to secure congressional support for pension reform.
Why Pensions Top To-Do List of Brazil's President: QuickTake Q&A
The approval rating for Temer's administration hovers around 10 percent, not far from the level of Dilma Rousseff's shortly before her impeachment. While the president has repeatedly insisted that he cares little for popularity, congressmen seeking re-election cannot afford to be so sanguine. With Brazilians' frustration at their political establishment boiling over, support for populist candidates is rising.
The government hopes for a vote on the bill by June, but developments elsewhere may throw that timetable out the window. Brazil's politicians are bracing themselves for further claims that their careers were bankrolled by illicit donations. One senior senator from the ruling coalition, speaking to Bloomberg on condition of anonymity, described the current atmosphere in Congress as one of fear and denial.
Another source of concern for the government is the forthcoming ruling by the country's top electoral court, which could decide to scrap the results of the 2014 presidential election over illegal campaign donations. Though Temer would likely appeal such a decision, it would harm his credibility yet further.
Even in the best case scenario, it looks like the government will have to negotiate substantially over its pension reform proposal, according to Melo. But the risk is that the government may only succeed in securing support for a symbolic bill that does little to address the country's needs in the long term.
"Many of the challenges of the pension system are likely to still be there for the next government," he said.