markets
Sway of Geopolitics Lurks Under Cover of South Korea's Markets
By and
Defense stocks have benefited amid China, North Korea tensions

Investors look beyond global risks to pick winners and losers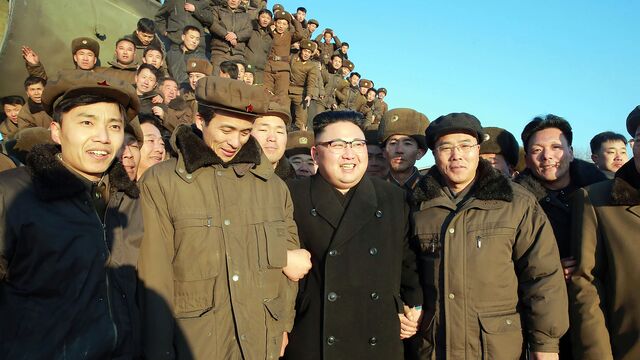 Another North Korean missile, another blip of a sell-off in South Korean stocks.
So it appeared Monday morning in Seoul -- another apparent piece of evidence that financial markets are shrugging off uncertainty of both the geopolitical and plain-old political kind. But under the headline move in South Korea's stock index, a more nuanced picture has emerged -- one of significant rotation among sectors.
Defense manufacturers have been clear winners of the escalation in tensions on the Korean peninsula that's also put strains on South Korea's relations with China, North Korea's top ally. The clear losers: companies in the south that have relied on Chinese buyers. The lesson for investors is a need to do your homework when it comes to assessing risks and opportunities from political developments.

There can be "too much focus on political risk rather than stock specifics," said Niv Dagan, executive director at Peak Asset Management LLC in Melbourne. Investors need to remember to closely watch fundamental drivers of earnings, he said.
The benchmark Kospi Index slumped 1.1 percent on Friday on news that China -- source of almost half of foreign visitors to South Korea -- ordered travel agents to halt sales of holiday packages to its regional neighbor. China's beef is South Korea's plans to deploy an American missile-defense system. The Kospi slid a further 0.5 percent Monday morning after North Korea fired several rockets into the Pacific. It later recovered to close up 0.1 percent, helped in part by gains in Samsung Electronics Co.
Looking back over the past two years, it's hard to detect much broad investor unease about increased strains between South Korea and China, its top trading partner, or with its volatile Communist neighbor North Korea. The period includes domestic turmoil to boot, from the impeachment of South Korea's president to the indictment of the acting chief of Samsung Electronics, the nation's top manufacturer.

At the same time, there's been major winners and losers. Defense companies Hanwha Techwin Co., Korea Aerospace Industries and Hyundai Rotem Company have climbed an average 32 percent, led by a 74 percent rally at Hanwha, which makes self-propelled howitzers and engines for military aircraft.
"There's certainly a strong case for Korean domestic defense spending to pick up," said Angus Nicholson, an investment strategist at AMP Capital Investors Ltd. in Sydney. His firm manages about $126 billion. "North Korea is always a risk -- you never know when that is going to blow up."
On the flip side, Hotel Shilla Co., which gets most of its duty-free sales from Chinese tourists, has plunged more than 60 percent since reaching a record intraday high in 2015. Retailer Lotte Shopping Co. has slumped 17 percent since mid-February to wipe out gains for the year. Chinese authorities have suspended operations of as many as 20 Lotte Mart stores including unconfirmed cases according to Yonhap news. Lotte Group agreed last week to provide land for the missile system.
The broader lesson for South Korean companies when it comes to geopolitical risk may be to diversify. Those businesses keyed to the global economy have advanced on the back of rising confidence in reflation, and the boost it brings to exports in Asia's No. 4 economy. Anam Electronics Co., STX Heavy Industries Co. and DSR Wire Corp., all exporters, are among the top-performing stocks in the Kospi this year, rallying at least 54 percent. 
"Whether it is GDP or the stock market, tourism-related sectors are dwarfed by industrial sectors, which remain the key growth driver in Korea," Trinh Nguyen, senior economist for emerging Asia at Natixis Asia Ltd., said in a client note. "From Korea's point of view, it may accelerate the trend of Korean firms diversifying from China's risks."
Before it's here, it's on the Bloomberg Terminal.
LEARN MORE