business
Painting Mini Elves and Goblins Is Cheaper Thanks to Brexit
By
Games Workshop says sterling's drop continues to boost sales

Warhammer players buy mini medieval soldiers to paint at home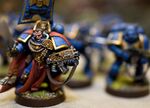 Games Workshop Group Plc, maker of the cult fantasy tabletop game Warhammer, says the weaker pound since last year's referendum continues to boost sales.
Shares of the Nottingham, U.K.-based company, which gets more than half its retail sales from overseas markets, have doubled since Britain voted to leave the European Union in June. The stock was up 3.5 percent at 2 p.m. in London.
"Profits for 2016/17 are likely to be materially above market expectations," Games Workshop said in a statement Monday. "Sales and profits have further benefited from the continuing favorable impact of the weaker pound," the company added, flagging an improved outlook a second time in two months.
Loyal followers of Games Workshop's Warhammer buy characters such as Nagash, Supreme Lord of the Undead, before taking them home to paint. One Nagash currently costs 65 pounds ($75), according to the company's website. Players then make their way across their boards, using rolls of the dice to conquer opponents.
A game with about one hundred models per player will usually last an evening, the Warhammer: Age of Sigmar rulebook says. Battles are described as "brutal and uncompromising," with the losing party left to "lick their wounds and bear the shame of failure."
Before it's here, it's on the Bloomberg Terminal.
LEARN MORE