Juppe Exit Leaves Party to Pick Up Pieces in French Race
By
Republican grandee says it's too late for him, not for France

Candidate Fillon facing criminal charges and calls to quit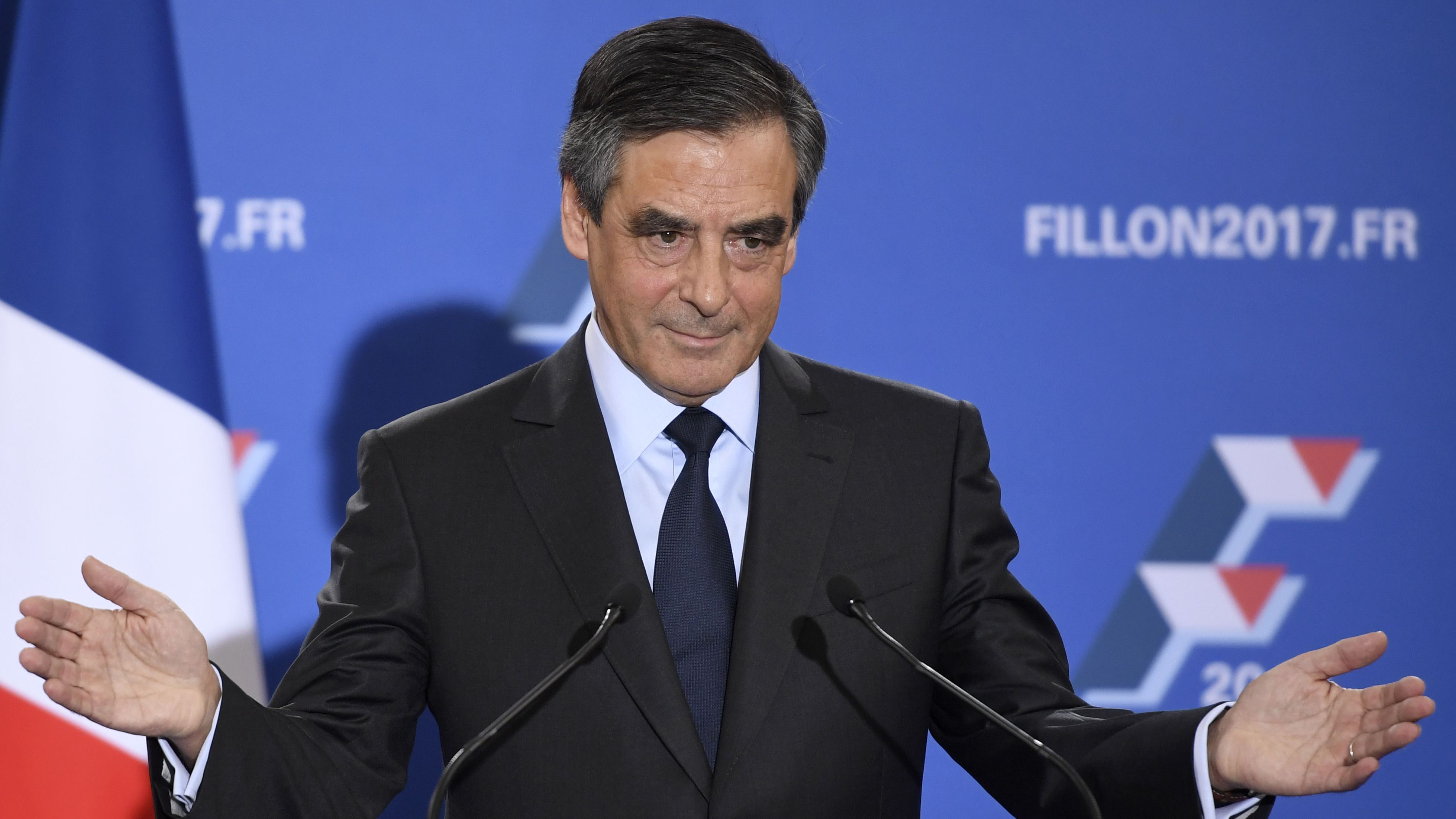 Alain Juppe's second departure from France's fractious election leaves former President Nicolas Sarkozy and other chiefs to pick up the pieces of their party's campaign with less than two months until the vote.
The leadership of the center-right Republicans is to meet at its Paris headquarters later Monday to discuss candidate Francois Fillon's future after potential charges of embezzlement led dozens of party figures to withdraw their support. Juppe, runner-up in the primary, ruled out a comeback Monday, ignoring the clamor for his return, even as he dismissed Fillon's insistence Sunday that he can stay in the race.

If the Republicans decide to install a replacement for Fillon, they have 11 days to file the paperwork with election authorities.
Juppe, a former prime minister, struck a grave tone in his statement to the cameras, feeding the sense of political chaos that is engulfing the country. With National Front leader Marine Le Pen on track to lead the first round of balloting on April 23 and the country's two traditional parties set to be excluded from the May 7 runoff for the first time ever, France's 2017 election is unfolding like no other in history.
'Crisis of Confidence'
'It's obviously not too late for France, it's never too late for France," Juppe said. "Our country is ill -- resistant to reforms it knows are necessary, angry at political elites but susceptible to demagogues. It is living through a crisis of confidence."
Juppe's refusal to be considered leaves the Republicans with few palatable solutions, given that his name was the one that most party leaders had put forward as a possible replacement. They now have to stick with a candidate who's way behind in the polls, or put forward nominees who either were massively rejected in last year's primary or never even ran. Juppe didn't even back Fillon in his speech, underlining the divisions and disorder in the party.
The extra yield investors demand to hold French 10-year bonds instead of their German equivalents increased by four basis points to 62 basis points on Monday. The difference in yields narrowed 16 basis points last week.
As recently as two months ago, 63-year-old Fillon was the front-runner in the presidential race. Yet the scandal that has overtaken his campaign since mid January has divided his party and fed the vitriol of voters who see the establishment failing to keep its promises and enriching itself.
Since the middle of last week, the list of party leaders deserting Fillon has grown steadily, with foreign-affairs adviser Bruno le Maire, campaign director Patrick Stefanini, treasurer Gilles Boyer and spokesman Thierry Solere all quitting.
"Defeat is now pre-set for Fillon, whatever people say," Republican lawmaker Georges Fenech said on BFM TV after Juppe bowed out.
Le Pen's Chance
While Le Pen's chances of victory are limited by France's two-round electoral process, growing anger at politicians could increase the risk of an upset. OpinionWay's daily rolling poll showed support for Le Pen at 27 percent on Monday, compared with 24 percent for independent Emmanuel Macron and 19 percent for Fillon. Surveys suggest Macron would beat Le Pen by about 20 points in the final round.
Even so, voter anger runs deep and Le Pen is trying to tap it. Louis Aliot, her political adviser and life partner, took advantage of the Republicans' turmoil to make an appeal to their supporters.
"Voters on the right should now join us to defend our common values and get out of this contaminated political system," Aliot said on Twitter.
Juppe, 71, said that his age and his own involvement in political and legal scandal in the 1990s mean that he is not the right person for the job now. Though he attacked the 39-year-old Macron for being politically "immature" and blasted Fillon for "radicalizing" the center-right's base at a demonstration in Paris Sunday, Juppe said his time has passed.
"The French want a profound renewal of their political managers, and obviously I don't embody that renewal," he said. "I repeat: for me it is too late."
— With assistance by Helene Fouquet, Geraldine Amiel, Anne Swardson, and Gregory Viscusi
Before it's here, it's on the Bloomberg Terminal.
LEARN MORE