Fillon Gets Republicans' Backing to Limp On in French Race
By and
Trailing in polls, Fillon asks party to pull itself together

Party leaders met in Paris to discuss unrest with candidate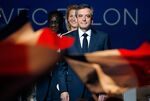 Francois Fillon won support from the leadership of his Republican party after an evening of backroom deal-making, allowing him to stagger on as a candidate in France's presidential election.
Party leaders led by former President Nicolas Sarkozy backed Fillon Monday night in Paris after he was hit by accusations he misused public funds, a criminal probe and calls for him to step aside just seven weeks before the first round of voting. On Tuesday, the candidate returns to the campaign trail with an evening rally in Orleans.
The endorsement capped six days of turmoil in the Republican camp that began with a summons from judges, that Fillon himself accepts will probably lead to charges of embezzlement. Since then he has pressed on, using a rally in the capital Sunday to demonstrate the strength of his grass-roots support in the face of dozens of resignations from his campaign team.
The tactics kept the 63-year-old former prime minister in the race with Alain Juppe, runner-up in the primary, ruling out a comeback and the party leaders deciding they had little option but to back him. Yet the events have done their damage, leaving Fillon trailing a distant third in the polls behind the National Front's Marine Le Pen and independent Emmanuel Macron.

"The demonstration allowed Francois Fillon to get back on his horse," said Brice Teinturier, a pollster at Ipsos France. "Despite the support of people on the right, the task ahead is very difficult. He's been left behind in the polls, he is in difficulty. He has a huge job to do to convince the French beyond his base."
Reality Check
French bonds fell for the second day, with the extra yield investors demand to hold French 10-year debt instead of their German equivalents rising two basis points to 64 basis points in early trading Tuesday. The difference in yields narrowed 16 basis points last week.
The Republican leadership's decision was in part a reckoning with reality. Any alternative candidate would have required written endorsements from 500 elected officials by March 17 and then would have had to build a campaign from scratch.
"The political committee, after a broad exchange of views, decided unanimously to support Francois Fillon," Gerard Larcher, president of the Senate, said after the meeting.
Fillon's challenge now is to rebuild his campaign after the director, treasurer and spokesman all quit last week. Fillon loyalists were on the air Tuesday morning calling for Republicans to rally round.
"The debate is behind us," southern lawmaker Eric Ciotti said on CNews television. "I am convinced he will be elected president. I feel a revolt, a sense of mobilization, in our movement." Bruno Retailleau, a senator who remained loyal to Fillon throughout, said on RMC Radio that Fillon, Sarkozy and Juppe will meet in coming days to show "an image of unity of our family."
Fillon asked his party to "pull themselves together" in a written statement late Monday. "Our voters won't forgive those who keep supporting the poison of division," he said.
Le Pen Risk
With Fillon preoccupied with the fight against his Republican opponents, Le Pen and Macron have been making the running for the first round. They are at 26.5 percent and 25.5 percent, respectively, with Fillon a distant third at 19 percent, according to Ifop's latest daily rolling poll.
Macron will be west of Paris on Tuesday visiting an elementary school and meeting role models for kids in tough neighborhoods.
All polls so far have shown that he would soundly defeat Le Pen in the second round of voting even if she wins the first. Yet the Fillon scandal -- which revolves around his wife's allegedly fictitious job as a parliamentary assistant -- is exactly the sort of affair that has fired the populist backlash against the French elite and given the anti-euro National Front its best chance ever of capturing power.
'Poison of Division'
Juppe, another ex-premier, struck a grave tone in his statement to the cameras Monday as he bowed out of the race for the second time in little over three months.
"Our country is ill -- resistant to reforms it knows are necessary, angry at political elites but susceptible to demagogues," Juppe said. "It is living through a crisis of confidence."
Indeed, Le Pen and her allies are seeking to capitalize on the tensions within the Republican party, with Louis Aliot, her political adviser and life partner, making an appeal to their supporters Monday.
"Voters on the right should now join us to defend our common values and get out of this contaminated political system," Aliot said. Le Pen speaks to a business association in Paris Tuesday.
Still, Le Pen has challenges of her own. A Kantar Sofres poll for Le Monde released Tuesday said that 58 percent of the French see the National Front as a "danger to democracy," up from 47 percent during the last presidential election in 2012.
Before it's here, it's on the Bloomberg Terminal.
LEARN MORE