Fighting for Libya's Oil Raises Questions Over Eastern Strongman
By , , and
Vital crude installations were targets of latest offensive

Attacks are major test for eastern commander Khalifa Haftar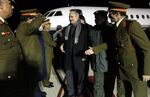 Libya's slow-burn conflict swept into two of its most important oil facilities late last week, shutting ports and triggering a drop in crude output in the OPEC nation. The attacks in the oil crescent were a setback to a military commander based in Libya's east who wants -- with the help of allies including Russia and Egypt -- to expand his influence all the way to the capital, Tripoli. Here's a look at why they matter for a country that has collapsed into fiefdoms since the ouster of Muammar Qaddafi.
Who's fighting whom?
The offensive on Es Sider, Libya's largest export terminal for oil, and Ras Lanuf, its biggest refinery, began March 3 and was led by the Benghazi Defense Brigades. The militia is mainly composed of Islamist-leaning rebels and former army officers who fought to topple Qaddafi and were forced to flee Benghazi as Khalifa Haftar, the eastern strongman, launched an offensive to secure the city in 2014. 
The Brigades were joined by supporters of Ibrahim al-Jadran, who used to head the regional branch of the Petroleum Facilities Guard. Colonel Ahmed Al Mismari, a spokesman for Haftar's Libyan National Army, said the attackers deployed tanks and radar.
Forces loyal to Haftar had gained control of key eastern oil installations in September, ousting Jadran's forces from the vital ports. Haftar allowed oil to flow and exports resumed, in a boost to the beleaguered economy -- and his popularity. The United Nations-supported unity government in Tripoli, Haftar's main rival for nationwide dominance, denied claims by some in the east that it played a behind-the-scenes role in the attacks that began Friday.
Read More: How Libya disintegrated after Qaddafi's fall.
What happened to oil prices?
The price of benchmark Brent crude jumped 82 cents a barrel on Friday as news of the fighting emerged. Prices rose again when Es Sider and Ras Lanuf halted operations. Libya holds Africa's biggest oil reserves and was among the few OPEC producers exempted from a global output cut that took effect in January, so even a small change in its production affects global supply.  
What do the Brigades want?
One leader, Colonel Mustafa Al-Sharkasi, said on Monday the militia wants only to return to Benghazi, Libya's second city, but also spoke of abuses of power in the region led by Haftar.
Riccardo Fabiani, a senior Middle East and North Africa analyst at Eurasia Group in London, said the weekend battles should be seen more broadly. "The Brigades have connections with some of the hard-line factions and local businessmen" in the country's west who oppose Haftar's push for power, he said. "They think that by attacking oil they can undermine Haftar, his power and most importantly the claim Haftar often makes that he's the only person who can bring stability and order to the country."
If the Brigades move to protect and then transfer the terminals to authorities under UN-backed Prime Minister Fayez al-Sarraj, as Al-Sharkasi said would happen, that could be evidence this is primarily about weakening Haftar.
How long will the fighting last?
Mismari said in a March 5 press conference that he expected the battle "to be long," and that the attack was a declaration of war. Still, the Brigades aren't powerful enough to challenge Haftar for too long, and the general is likely to regain control of the terminals in a few days, according to Fabiani.
What does the fighting say about Haftar?

Haftar has powerful friends in his standoff with Sarraj -- Russia, Egypt and the United Arab Emirates are major backers. He also has widespread support in Libya's east, though he's opposed by powerful militias across central and western Libya, where 70 percent of the population lives. The four days of battles have likely tarnished Haftar's image, said Mattia Toaldo, senior policy fellow at the European Council on Foreign Relations. His allies may begin to wonder "whether the strongman of Libya is actually strong," he said. "This assertion will be tested."
What about prospects for peace?
That looks as far off as ever, Fabiani said. "You need all the major international powers involved in this conflict to align their interests and push the two sides to compromise," he said, referring to the administrations in the east and west. "You need moderates on each side to take the upper hand" before the hard work can begin of disarming militias and building a national army.
Is control of oil just about money?
Regulated by UN resolutions, the Sarraj government is the only entity allowed to sell oil, and export revenues go to the Tripoli central bank. But control of the fields and ports also provides political leverage in talks on the future of Libya. During the 2011 uprising against Qaddafi, all sides were careful not to harm the nation's oil industry, which accounts for most of Libya's export revenue. It has since been a key focus of factions competing for power and influence. Installations have changed hands several times following the country's split between rival administrations in 2014.
Before it's here, it's on the Bloomberg Terminal.
LEARN MORE