Fiat Said to Mull Panda Shift to Poland for 'Made in Italy' Alfa
By
Pressure on Europe's automakers mounts amid stalling growth

Carmaker wants to produce more upscale models in Italy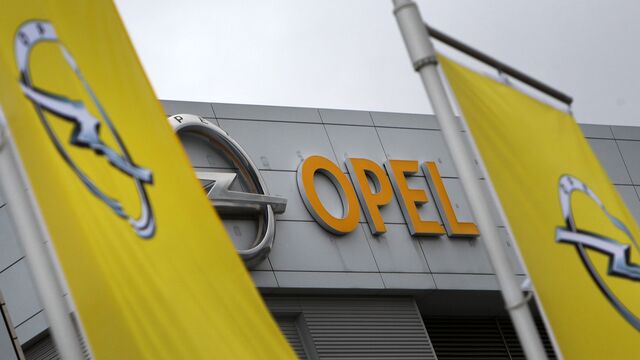 Fiat Chrysler Automobiles NV is considering shifting manufacturing of its Panda city car to low-wage Poland to create production space for more upscale models in Italy, according to people familiar with the matter, as earnings pressure on European automakers mounts amid stalling growth.
Carmakers fighting for customers at the Geneva International Motor Show this week are aware that 2017 may be as good as it gets for the foreseeable future, as European sales are set to rise 1 percent to 15.3 million vehicles in 2017 and then gradually fade in coming years, with little chance of a return to the 2007 peak, according to researcher IHS Markit. 

With flagging growth and looming heavy investments for self-driving vehicles, European automakers are seeking to squeeze out costs. The biggest move to date is PSA Group's deal, announced Monday, to acquire Opel from General Motors Co. to create Europe's second-largest automaker after Volkswagen AG.  Ford Motor Co. is talking with British unions about improving efficiency in the aftermath of the U.K.'s vote to leave the European Union, while Volkswagen is cutting as many as 30,000 jobs at the struggling VW brand. 
For Fiat that could mean halting production of the popular Panda at the Pomigliano plant near Naples to free capacity for the upmarket Alfa Romeo brand, which benefits from the cachet of the "Made in Italy" label, said the people, who asked not to be identified because the discussions are private. The decision isn't final and could depend on sales of new Alfa models like the Stelvio sport utility vehicle and Giulia sedan. Fiat declined to comment.
Lower Labor Costs
The Panda, which is advertised for as little as 6,990 euros ($7,360) including trade-in rebates, is essentially a commodity car, competing with a host of other no-frills compacts like the VW Up!, Peugeot 108 and Hyundai i10. Poland's lower labor costs could make a big difference in the battle for customers and profits, especially amid mounting pressure on prices. 
A Panda/Alfa production shift would be in line with Chief Executive Officer Sergio Marchionne's dual strategy for Europe: upscale cars and SUVs made in Italy, combined with no-frills vehicles built in countries with cheaper labor. The approach has thus far paid off: the company's sales outperformed peers in the region last year, as profit more than doubled to 540 million euros.
Shifting the Panda to Poland would be Fiat's latest move of a mass-market car to a cheaper production site outside western Europe. The Tipo sedan and hatchback are built by a joint venture in Turkey, while the 500 is made in Poland and the larger 500L variant in Serbia. That's a contrast to PSA's approach, as the French manufacturer doubles down on the region by adding production in Opel's Germany and U.K. strongholds.
More SUVs
Fiat is also considering widening the Alfa Romeo line-up by adding more SUVs and cross-overs, and may use the Pomigliano plant for that, the people said. Results over the next few next months will be crucial for the carmaker's decision, as the Stelvio is now in European showrooms and the Giulia has started U.S. deliveries. Fiat sold 412 Giulias in the U.S. in February following a marketing campaign culminating with a Superbowl TV commercial.
Europe's automotive landscape is particularly competitive. In addition to the complexity of operating in numerous small national markets, customers generally prefer low-margin small cars. That means profitability in the region is wafer-thin. Even with demand currently near the top of the cycle, Fiat's mass-market car business reported operating profit in Europe of 2.5 percent of sales last year, compared with 7.4 percent in North America. Ford was similarly lopsided, with 4.2 percent in Europe and 9.7 percent in its home region.
PSA CEO Carlos Tavares is trying "to leverage on his restructuring skills to become a leader in the crowded European mainstream market," said Vincenzo Longo, market strategist at IG Markets in Milan. "Marchionne is playing a different game, using Italy as a hub for upscale products: it's a less risky strategy if the Alfa plan is successful."
Before it's here, it's on the Bloomberg Terminal.
LEARN MORE