Merkel's Government Rebuffs Erdogan's Nazi Comparison as 'Absurd'
By and
Comments were unjustifiable, out of bounds: German chancellor

Dispute escalates after Turkish rallies in Germany canceled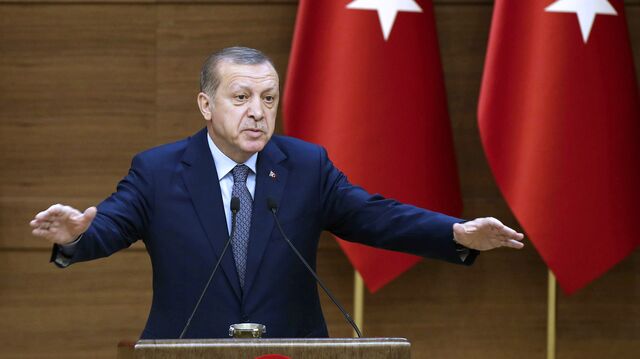 Chancellor Angela Merkel rebuked Turkish President Recep Tayyip Erdogan for suggesting that Germany is stuck in the Nazi era, saying he's trivializing World War II-era crimes as a dispute between the two NATO allies escalates.
Striking an unusually strident tone, Merkel risked deepening the divide between the two governments after Erdogan accused Germany of using Nazi-like practices to thwart campaign rallies aimed at Turkish expatriate voters. Such language "can't be justified" under any circumstances and foreign politicians can campaign in Germany within the law, Merkel said Monday.
"It's especially grave -- and I personally find it just sad -- that Nazi comparisons really only lead to one thing: trivializing the incomparable crimes against humanity carried out under National Socialism," Merkel said in remarks before a prepared speech in Berlin. "To be honest, it's hard to respond seriously to such out-of-place comments."
The flareup reflects one strand of tension between the European Union and Turkey over Erdogan's plan to hold a referendum in April to transform the Turkish presidency into the nation's top executive post. European leaders accuse Erdogan of concentrating power as the government cracks down on dissent, and Merkel has called on Turkey to release a jailed German-Turkish reporter whom Erdogan has described as a spy.
Erdogan lashed out in Istanbul on Sunday after two German municipalities canceled campaign events by two of his cabinet ministers in the buildup to the referendum. His comments added to tension over Turkey's human-rights record since a failed coup to topple Erdogan last July.
'Absurd Remarks'
Merkel's chief spokesman, Steffen Seibert, called the remarks "absurd" and catalogued several "deep differences of opinion" between the two governments. He urged Turkish leaders to keep "a cool head" and emphasized trade and other ties binding the two nations together.
With an estimated 1.4 million Turkish voters living in Germany, the decisions last week to scrap the campaign events have "nothing to do with democracy," Erdogan said, and are "not different from Nazi practices."
"Those statements also make me sad because actually we all know that Germany and Turkey are bound together in many respects," Merkel said on Monday.
Refugee Accord
The turmoil began when the town of Gaggenau in southwestern Germany revoked a permit for Turkish Justice Minister Bekir Bozdag to hold a campaign rally, citing concerns of overcrowding. In Cologne, authorities canceled Economy Minister Nihat Zeybekci's planned address on Sunday to a Turkish community, citing security concerns.
Merkel last week condemned the jailing of German-Turkish journalist Deniz Yucel, 43, as "bitter and disappointing," saying the charges of terrorist propaganda threatened press freedom in Turkey.
For all the criticism by German leaders, Turkey and the EU have shared interests beyond trade.
Erdogan and the EU last March forged a deal to stem the flow of refugees entering Greece via the Aegean, with Turkey agreeing to take back people turned away. Merkel's government credits the accord with helping lower Germany's refugee influx last year after a record of more than 1 million arrivals.
The EU is a critical trade partner for Turkey, taking 47 percent of its exports in January. Germany was the No. 1 export destination for Turkish goods, accounting for 10 percent, according to Turkey's statistics agency.
— With assistance by Rainer Buergin, and Tugce Ozsoy
Before it's here, it's on the Bloomberg Terminal.
LEARN MORE