Asian Stocks Gain as Metal Companies Rally on China Growth, Fed
By
Mining shares rally as China sets upbeat annual growth target

Japan equities fall after North Korea fires ballistic missiles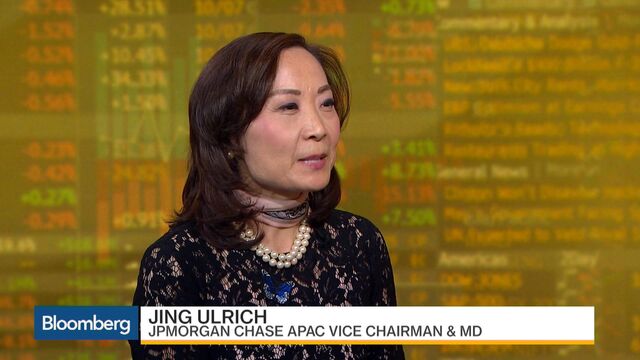 Asian stocks gained, led by rally in energy and mining companies after China set an upbeat growth target for this year. Japan equities fell after North Korea fired four ballistic missiles early Monday that fell into the Sea of Japan.
The MSCI Asia Pacific Index rose 0.4 percent as of 4 p.m. in Hong Kong, rebounding from its biggest weekly drop in nearly three months. Japan's Topix index retreated for a second day as the yen strengthened against the dollar. Lotte group stocks fell after China suspended the operations of four Lotte Mart stores.
"China's growth target gave assurance to investors about the global economic trajectory for this year," Jeffrosenberg Tan, head of strategy at PT Sinarmas Sekuritas, said by phone. "Fed remarks also signal that the U.S. economy is resilient enough to withstand higher interest rates."
Most base metals gained after China set an economic growth target of 6.5 percent this year. Premier Li Keqiang said on Sunday the country's systemic risk is under control and economic fundamentals remain sound, even as he flagged the specter of "graver" internal and external challenges ahead.
Traders are betting on a 96 percent probability that the Federal Reserve will raise rates next week, versus 40 percent two weeks ago, after several U.S. central-bankers signaled their willingness to increase borrowing costs.
Federal Reserve Chair Janet Yellen dropped hints on Friday that the central bank might end up having to increase them this year more than planned after singling out the danger of the central bank being too slow in boosting rates during her speech to The Executives' Club of Chicago.

SUMMARY
Japan's Topix -0.2%, Nikkei -0.5%

Yen +0.3% to 113.65 per dollar, after 0.3% gain Friday

Hang Seng Index +0.2%, HSCEI +0.3%, Shanghai Composite +0.5%
ASX 200 +0.3%

Rio Tinto +2%, BHP Billiton +1.6%; Credit Suisse raises 2017, 2018 iron ore price targets

South Korea's Kospi +0.1%

Lotte Shopping -0.5%, Lotte Confectionery -1%

Singapore's Straits Times Index -0.2%, Jakarta Stock Exchange Composite Index +0.2%, Malaysia's KLCI Index +1%, Philippines Stock Exchange PSEi Index +0.9%, Thailand's SET Index -0.5%
S&P BSE Sensex Index +0.6%

Reliance Industries +3.7%, Formosa Petrochemical +2.9%