South Korea Vows to Protect Firms Amid China Pressure Over Thaad
By and
Lotte Group executives meet to discuss threat of retaliation

Tensions rise after Korea's decision to deploy missile shield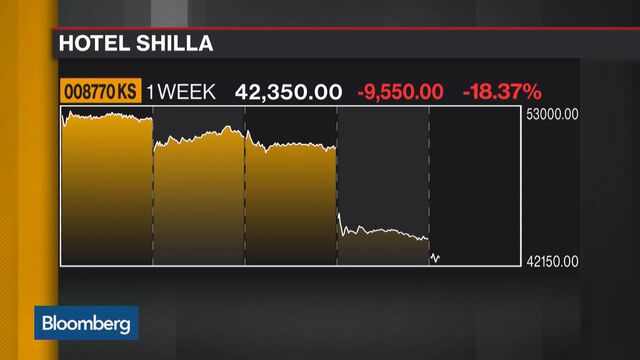 South Korea said it would ensure Korean companies don't face unfair trade measures in China, pushing back against pressure from Beijing over its decision to deploy a U.S. missile shield on its soil.
The China National Tourism Administration verbally ordered local travel agencies to stop selling tour packages to South Korea starting March 15, the state-run Korea Tourism Organization said Friday. The Korea Economic Daily said Sunday, citing unidentified officials, that Chinese authorities suspended businesses of four Lotte Mart stores for a month for allegedly violating fire safety norms.
South Korea's government is "deeply concerned about the measures taken in China and will closely monitor the situation and strengthen responses," Trade Minister Joo Hyung-hwan said Sunday. "Responses will be taken via international law should China violate WTO or Korea-China free trade agreement rules."
As North Korean leader Kim Jong-Un ratchets up tensions on the peninsula with missile launches and nuclear weapons tests, businesses in South Korea are facing the heat in China after Seoul decided to station the shield -- known as Thaad -- on land offered by conglomerate Lotte Group. China says the system would upset the military balance in the region and risk undermining its own security.
The tensions are impacting financial markets. South Korea suffered a selloff Friday in hotels, cosmetic makers and other tourism-related companies that made the country's benchmark the worst performer among Asian equity markets. It echoes moves by China to punish Japanese companies in 2012 amid a dispute over islands in the East China Sea.
North Korea Missiles
South Korean shares fell further on Monday after news that North Korea fired four ballistic missiles. Three of them fell into Japan's exclusive economic zone, prompting a protest from Prime Minister Shinzo Abe. South Korea's Joint Chiefs of Staff said the missiles flew around 1,000 kilometers (about 620 miles).
Executives at Lotte held a meeting Sunday and sought "active help" from the South Korean government in handling damages from its China operations.
Lotte will make "all out efforts to minimize inconveniences for consumers by forging a constant response system with all workers in China," it said in a statement, adding it has 20,000 employees in China, a third of its overseas workers.
Korean Culture
As well as companies and tourism, South Korean pop culture may also take a hit. All major Chinese streaming companies purged their platforms of South Korean shows last week, the Communist Party-affiliated Global Times reported Sunday.
South Korea's Foreign Minister Yun Byung-se told a local television channel that Thaad is for national security and Lotte Group made a difficult decision to cooperate with the government. It is not right for China to retaliate or impose regulations against Lotte, Yun said.
A Lotte Group spokesman said by phone that Chinese authorities had suspended the operation of four Lotte Mart stores in Dandong. China's fire services department didn't immediately respond to an email seeking comment. Calls to its tourism administration to ask about the travel restrictions weren't answered.
Before it's here, it's on the Bloomberg Terminal.
LEARN MORE