S. Africa Plans Welfare Change; Minister Called on to Quit
By
Government proposes a 2 year transition phase for new system

Minister refuses to take questions on official's resignation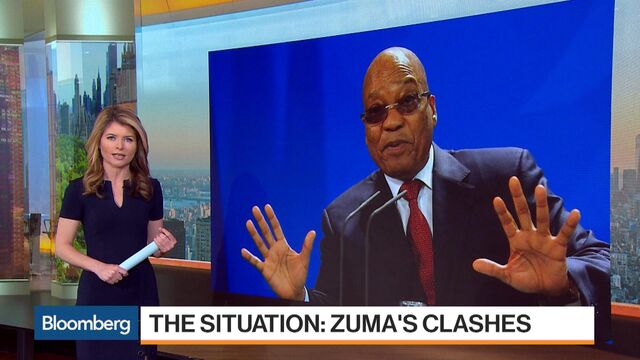 South Africa's Social Development Minister Bathabile Dlamini said she plans to bring in a new welfare system over the next two years as calls for her resignation mounted with an interruption to payments to more than 17 million people threatened next month.
The minister said on Sunday that while government is yet to sign an interim contract with Net 1 UEPS Technologies Inc. to ensure the payments continue next month after the existing contract expires payments will be made. Net 1 Chief Executive Officer Serge Belamant said in an interview with Johannesburg's 702 Talk Radio that the terms of the deal have been agreed, without giving further detail.
The department and the South African Social Security Agency, or Sassa, are scrambling to ensure beneficiaries continue to get their money next month. The payments of more than 140 billion rand ($10.7 billion) a year are a signature policy of South Africa's ruling African National Congress, which says the grants are an important measure to reduce inequality in the nation 23 years after the end of white-minority rule. In previous election campaigns, its officials have told rallies that if another party came to power, the payments may end.
"On 1 April, Sassa begins a new era," Dlamini said, adding that a "transition" phase would end in March 2019 with a new arrangement then put in place. "As has been the case in the past, no one will go unpaid."
Invalid Contract
While the current contract with Net 1 was ruled invalid by the Constitutional Court in 2014, the welfare agency hasn't complied with an order to hold a tender to find a new service provider. Negotiating a new contract with Net 1 could potentially be circumvent the court ruling. It would also be against the advice of the finance ministry which, along with the country's central bank and the national Post Office, has proposed alternatives to using Net 1.
"This is an own goal scored by Minister Dlamini," Karima Brown, an independent political analyst, said on broadcaster eNCA. "She should do the honorable thing and resign."
The Congress of South African Trade Unions, the country's biggest labor group and an ally of the ruling African National Congress, has called for Dlamini to quit as has the main opposition party, the Democratic Alliance. The Sunday Times, South Africa's biggest weekend newspaper, ran an editorial calling for her resignation.
Dlamini is also head of the ANC Women's League, a strong supporter of President Jacob Zuma.
Cash Paymaster Services, a unit of Net 1, will continue making payments while new social-grants arrangements are implemented, Dlamini told reporters in Pretoria. The welfare department is negotiating a new deal with the company, according to Dumisile Ndlovu, the department's acting executive manager for corporate services.

Refuses Questions
Dlamini refused to take questions about the resignation of Zane Dangor, the head of the social development department, or about her working relationship with Sassa Chief Executive Officer Thokozani Magwaza, who is on sick leave. President Jacob Zuma on Saturday called Dlamini and Finance Minister Pravin Gordhan to a meeting and ordered them to ensure the payments are made.
A new contract will cost the government more than the current deal. A letter filed as part of a Constitutional Court application last week showed the fee Net 1 will charge per beneficiary under a new or extended contract may rise to 22 rand to 25 rand, from 16.44 rand currently. Belamant said that the amount was less than 25 rand per beneficiary.
"We're a reputable company and we have worked out what we believe is a fair and equitable increase, nowhere near 25 rand," he said.
Over the next two years, the welfare department will work with the Department of Home Affairs to help authenticate recipients and the government will at some stage use the Post Office to help distribute the money, Dlamini said.
The Black Sash Trust, a Human Rights group, last week applied to the Constitutional Court to demand that the court have oversight of any agreement with Net 1 and that Dlamini report regularly to it. The Democratic Alliance has joined that case.
Before it's here, it's on the Bloomberg Terminal.
LEARN MORE