Fillon Says He Won't Pull Out of French Presidential Race
By and
Republican presidential candidate spoke at Paris rally

Party officials discuss replacing Fillon after scandal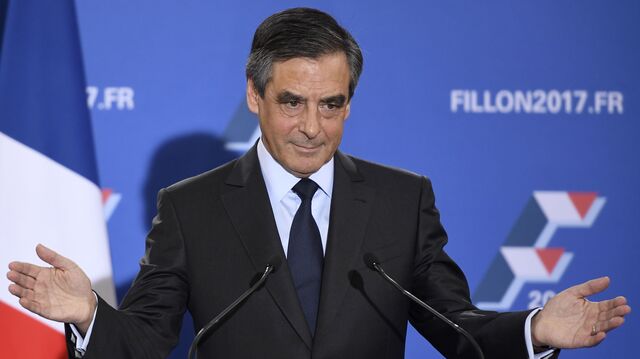 Francois Fillon is fighting to stay in the French presidential race by appealing to his base as his support among party leaders slips away amid a corruption scandal.
He won't pull out before the April 23 first-round vote and no one can force him to, he said on France 2 television Sunday evening, hours after a rally near the Eiffel Tower in which the conservative candidate told thousands of cheering supporters that potential charges of embezzlement against him were "unfair." 
"No one can prevent me from being a candidate," he said. "Any change so close to the election is necessarily doomed to fail."
At the rally, he reiterated that he had committed an error by employing his wife as a parliamentary aide and that he bore his share of responsibility. He said he was resisting pressure to quit because of support from those who had given him a wide victory in the November Republicans party primary.

"The choice is yours, and that of your votes," he said as people waved French flags. "It will be that of all of France if we are capable of the ultimate effort."
His remarks came a day before party executives meet to discuss his future amid growing support for former prime minister Alain Juppe to take his place. Earlier Sunday, Christian Estrosi, a longtime Republican lawmaker and major political figure in the south, said on BFM TV that the party needed to find a "respectful" exit for Fillon. Former President Nicolas Sarkozy and Juppe, who had both run in the primary against Fillon, spoke Saturday night about ways to end the crisis, Agence France-Presse reported.
"He's arm-wrestling with his party leaders," said Yves-Marie Cann, political research director at Elabe polling firm. "His bet to use the rally as a showcase for his legitimacy succeeded. I can hardly picture him saying he's quitting after such a show." 
About 35,000 to 40,000 attended the rally, according to police sources cited by BFM. Should he step down, some of his more conservative supporters could potentially turn to far-right candidate Marine Le Pen, said Bruno Jeanbart, deputy chief executive of Opinionway polling firm.
A poll conducted by Ifop pollster for the Journal du Dimanche released earlier Sunday showed that 71 percent of the French want Fillon to quit the presidential race.
Party Meltdown
Fillon, a former prime minister, was the front-runner in the presidential election as little as two months ago. His campaign has been swamped by an investigation into his wife's parliamentary job after a newspaper reported that she took her public salary without doing any work. The Republican's meltdown has left independent Emmanuel Macron as the main challenger to the anti-euro Le Pen.
Fillon has been summoned to speak to judges March 15, which he acknowledges could be the first step toward being charged. The candidate has questioned the motives of the judges leading the probe, labeling it a "political assassination," and has vowed to stay in the race.
His intransigence has failed to keep many of his party in line, however, and he's been deserted by a stream of grandees and lawmakers over the past few days as calls for an alternative candidate have multiplied. His campaign director and his treasurer have both resigned.
Wife's Interview
In an interview with Journal du Dimanche published Sunday, his wife, Penelope, broke her silence for the first time since the scandal erupted to vow that she'll support her husband come what may. She stood by her claim of innocence.
If Fillon was replaced by Juppe, the new Republican candidate would get 24.5 percent of voter support in the first round, according to a poll by Kantar Sofres for Le Figaro newspaper released late Sunday. Macron, who has been polling at about 25 percent, would get 20 percent in the first round and Le Pen would get 27 percent, about where she has been polling. Juppe said he would make an announcement to the press on Monday.
"This is proof that nothing today is fixed in people's intentions," Emmanuel Riviere, director of Kantar Sofres France, told Le Figaro.
The well-dressed crowd reflected Fillon's conservative stance on social values.
"He supports values that are important to us like family," said supporter Berangere Bertrand, as she, her husband Lionel and their two toddlers attended the speech. "His program is the most likely to enable France to grow as an economy and as country. We're convinced he'll make it to the second round if his party lets him. We don't even want to think about anything else."
Before it's here, it's on the Bloomberg Terminal.
LEARN MORE