Mining Dealers on the Hunt as Metal Prices Rally
By and
Investment banker says he's busiest he's been in four years

Deals spurred by return to exploration after investments sank
Mining investment bankers say deal-making is starting to flow again as the biggest producers return to the hunt after four years of restraint.
A commodity rout that sent metal prices falling for three years forced many of the mightiest miners to slash investments and sell assets to cut debt. After prices began to rise last year, the industry has started to emerge from its defensive crouch.
Would-be acquirers who suffered from too-rapid or ill-timed expansion say they will largely be returning to their traditional targets: so-called juniors, who take on the risk of exploring and developing projects in the hopes of hooking up with a larger investor.
The prospect of increased deal-making is set to be a hot topic for the more than 20,000 geologists, promoters and investors expected to attend the four-day Prospectors & Developers Association of Canada convention, the world's biggest mining gathering, which started Sunday in Toronto.
"This is the busiest it's been in my four years here," Paul Knight, co-head of global metals and mining at Barclays Plc, said by telephone. "If our experience here is any indication of what's happening around the street, you may well see more M&A activity at the end of this year than we've seen in the last three or four years."

Mining companies and steel producers cut capital spending to $42.5 billion in 2016, from $123.6 billion four years earlier, according to Wells Fargo, leaving many companies with few options to expand output except through deals with competitors.
While deal-making in mining is still well below an early 2012 peak, transactions announced in the first two months of the year climbed 41 percent to $7.6 billion from a year earlier, according to data compiled by Bloomberg. That's the best start to a year since 2013, before gold and copper entered bear markets. Premiums for the deals announced in February averaged 33 percent, the highest since August, data show.
Gold, silver, platinum and palladium futures have climbed at least 7 percent this year, while all the main industrial metals, except tin, have risen on the London Metal Exchange.
Investors poured about $4.9 billion into exchange-traded funds that track materials companies in the three months through March 3, beating funds linked to technology firms, according to data compiled by Bloomberg. Money is coming in amid an improving demand outlook that's been driven by economic stabilization in China and U.S. President Donald Trump's $1 trillion infrastructure spending pledge.
The nature of mining means companies need to replace declining production or eventually they go into "liquidation mode," David Harquail, chief executive officer of Franco-Nevada Corp., said last week. Most companies don't have a decade to wait for permitting and development of greenfield assets, so the big hunt will be for scarce advanced-stage projects, he said.
Evidence of a change in sentiment in the industry can be seen at the PDAC conference this week, where there's more activity and the mood is better than last year, according to Randy Smallwood, CEO of streaming company Silver Wheaton Corp.
'Chewing Up'
Mining needs investment, Smallwood said Monday in an interview at PDAC. "You can't just keep chewing up the ore bodies and not invest in finding new ones."
Many of the large gold miners, including industry leaders Barrick Gold Corp. and Newmont Mining Corp., are turning much of their attention to developing or expanding internal projects. But deals will be done -- albeit with greater scrutiny, said Barclays' Knight, who helped advise China Molybdenum Co. on its acquisition of Anglo American Plc's Brazilian niobium and phosphate assets last year.
On Monday, Agnico Eagle Mines Ltd. agreed to buy 38.1 million shares of Toronto-based GoldQuest Mining Corp. at 60 Canadian cents through a non-brokered private placement, implying a 28 percent premium to the close on March 3.
Mining executives say they have learned from the mistakes of the past when they loaded up on high-cost projects, leaving them stuck with unprofitable assets when metals entered a bear market.
"I think people have been burned," Newmont CEO Gary Goldberg said in a Bloomberg TV interview. "You're better to take smaller pieces and double down on those. And if they work, good, and if they don't, you fall fast and move on."
'More Surgical'
Like Newmont, Barrick has stressed the need to focus on margins rather than volume.
"It's not just about adding ounces," Barrick President Kelvin Dushnisky said in an interview, stressing that the company will be patient with deals. "We wouldn't do a shot-gun approach, it will be more surgical."
In one of the biggest deals announced this year, Glencore Plc bought out Israeli billionaire Dan Gertler in a $960 million transaction to boost its ownership of two giant Congolese cobalt and copper mines.
Other companies are signaling they want to jump into deals too. Aurubis AG, Europe's biggest producer of refined copper, is considering acquisitions as it plans to expand to other metals, the Hamburg-based company said Thursday. Lundin Mining Corp. is looking for copper-zinc acquisition opportunities, Chairman Lukas Lundin said last week.
Bounce Back
At the same time the number of large, high-quality projects up for grabs may be limited. As metal prices bounce back, many producers have been shelving plans to sell assets.
Anglo American Plc canceled a plan to sell its nickel mines in Brazil and coking coal assets in Australia, Chief Executive Officer Mark Cutifani said in a Bloomberg TV interview last month. Glencore decided to keep its gold mine in Kazakhstan known as Vasilkovskoye, according to people familiar with the matter. Freeport-McMoRan Inc., which had been selling assets to pay down debt, said in October it didn't need to shed additional assets.
Andrew Mackenzie, CEO of BHP Billiton Ltd., the world's largest miner, said last week that going forward his company would make acquisitions for the right kind of ore bodies, but "they're very hard to come by."
Still, rising metal prices coupled with an improving global economy and better credit conditions will add to pressure to make deals.
"With access to capital renewed and ratings back on a positive trajectory, we expect companies to return to M&A markets and project development work in an effort to address looming metal deficits," David Deterding, director of high-yield research at Wells Fargo Securities, said at a zinc conference.
The big question will be how much they'll do differently this time around. Lundin, the mining magnate who heads a group of other commodity producers, said the industry's "cost discipline" may not last long.
"Obviously, if we start making too much money we will probably not be as tough on costs as we should be," Lundin said.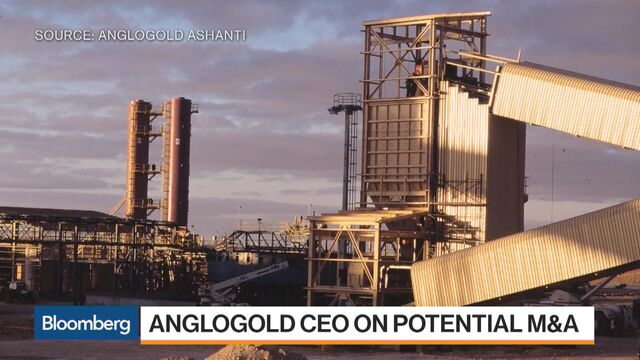 — With assistance by Susanne Barton
Before it's here, it's on the Bloomberg Terminal.
LEARN MORE