U.S.'s Tillerson to Make First Asia Visit in March, NHK Reports
By
Secretary of state to visit Japan, South Korea and China

Main purpose of the trip will be to discuss North Korea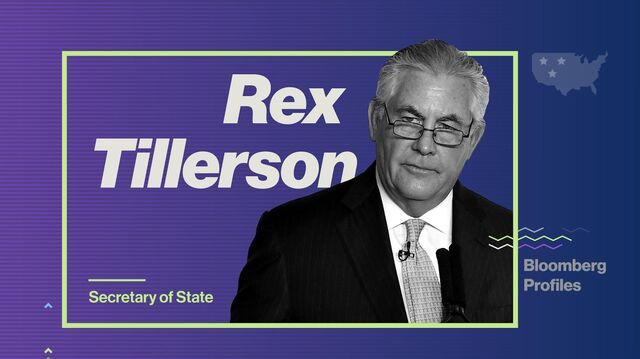 Rex Tillerson will make his first visit to Japan, South Korea and China as U.S. secretary of state later this month, and heightened tensions over North Korea will rank as a top priority, according to Japanese media reports.
Tillerson will arrive in Japan on March 17 and meet with Prime Minister Shinzo Abe, Nikkei reported on Saturday without attribution. He will then travel to South Korea and China, according to Japanese national broadcaster NHK. Japan's Ministry of Foreign Affairs wasn't immediately available to comment on Saturday.
The trip by the former head of Exxon Mobil Corp. comes amid rising international concerns over North Korea, which conducted a missile test during Abe's state visit to the U.S. last month and is suspected of being behind the assassination of its leader's half brother in Malaysia. Tillerson will also have to navigate the delicate relationships between Japan, South Korea and China, including territorial disputes.
Tensions between the U.S. and China over how to handle North Korea have escalated since President Donald Trump accused Beijing of not doing enough to curb Kim Jong Un's nuclear ambitions. Beijing's leaders have called for a new round of talks on North Korea as they seek to rein in Kim and halt U.S. plans to deploy a missile-defense system known as Thaad in South Korea, in part on concerns that it will undermine China's own security.
China's top-ranking diplomat, Yang Jiechi, met Trump earlier this week in what was the highest-level contact between the world's two biggest economies since Trump's election, as North Korea's nuclear program overshadows tensions over trade.
Trump, who during his campaign said he could negotiate with Kim over a hamburger, promised to deal with North Korea "very strongly" after its most recent missile test. China, in a signal it is growing more frustrated with Pyongyang, last month moved to ban coal imports from the country.
South Korea and the U.S. agreed to start joint military drills on March 13, Yonhap News said on Tuesday. North Korea threatened action, while China's foreign ministry said it is "highly concerned" over the exercises, Xinhua reported.
Territorial disputes have also long plagued the nations in East Asia. China regularly sends Coast Guard vessels into Japanese-administered waters around disputed islands in the East China Sea. U.S. Defense Secretary James Mattis confirmed during a meeting with Abe in February that the defense treaty between the longtime allies covers the islands.
Japan also remains deadlocked with South Korea over a set of barren islets claimed by both countries.
Before it's here, it's on the Bloomberg Terminal.
LEARN MORE