A Rally at the Eiffel Tower May Be Fillon's Last Stand as Key Allies Flee
By and
Republican candidate betting Paris demo can save his candidacy

Party sees growing clamor for Alain Juppe to replace Fillon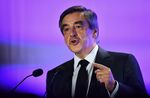 Francois Fillon's bid to be the next president of France is running on empty.
Cornered by prosecutors, abandoned by his team, the Republican candidate's remaining loyalists are asking supporters to gather opposite the Eiffel Tower at 3 p.m. Sunday to show that he's still a force in the 2017 election. With demands multiplying for Fillon to step aside in favor of his former rival Alain Juppe and reports of party grandees meeting to discuss his future, the rally will be an acid test of his credibility.
"I call on all those who don't want this election stolen to come and protest at the Trocadero," Republican senator Bruno Retailleau and one of Fillon's closest allies said Friday on Europe 1 radio. "This affair is without precedent."

Fillon was the front-runner in the French presidential election as little as two months ago but his campaign has been swamped by an investigation into his wife's job as a parliamentary aide after a newspaper reported that she took her public salary without doing any work. The Republican's meltdown has left the independent Emmanuel Macron as the main challenger to the anti-euro candidate Marine Le Pen.
Ides of March
A survey by Odoxa Friday showed Macron leading Le Pen for the first time in polling for the initial round of voting on April 23. Every recent survey has shown that Macron would beat Le Pen by a wide margin in the runoff on May 7.
Fillon could be charged with embezzlement as soon as March 15, when he's due to be questioned for a second time. The right-wing candidate has questioned the motives of the judges leading the probe, labeling it a "political assassination" and has vowed to stay in the race.
His intransigence has failed to keep many of his party in line however and he's been deserted by a stream of grandees and lawmakers over the past few days as calls for an alternative candidate have multiplied.
Fillon's increasingly provocative rhetoric provoked a slap from President Francois Hollande this week. Hollande, a Socialist who opted not to run for a second term, warned against undermining the independence of the courts.
"There can't be any protest in our country which could call into question the institutions of justice," Hollande said Thursday.
Holding Firm
Even some Fillon supporters are uncomfortable with Sunday's rally.
"In a fragile country like ours, it's not wise to call a protest against the institutions," former Republican primaries contender Jean-Frederic Poisson said on RMC radio Friday. "You demonstrate for something, not against the institutions of the republic."
For now though, Fillon isn't flinching. Though his poll numbers have suffered, he remains in touch with the leaders with seven weeks still to go before the first round. He said Thursday he'd do without those who left his campaign, insisting the base is holding and has planned media appearances after the weekend, including an hour-and-a-half-long interview on Europe 1 radio on Monday morning.
All the same, reports are circulating that former prime minister Alain Juppe, who lost to Fillon in November's primary, may be preparing to step in. If Fillon was replaced by Juppe, the new Republican candidate would be on track to lead in the first round of voting, according to Odoxa. He'd then be likely to face a runoff against Macron.
Before it's here, it's on the Bloomberg Terminal.
LEARN MORE