Vodafone Female Recruitment Push Targets Women on Career Breaks
By
Company seeking to boost ratio of female managers above 30%

Program follows maternity leave effort, graduate hiring policy
Serpil Timuray, the most senior female executive of Vodafone Group Plc, knows all too well the challenge of climbing the corporate ranks after becoming a mother.
When Timuray's son was three, he stopped speaking to her for a month because he wanted her to stay home from work with him instead of the nanny. She considered stepping away from her job at the time as chief executive officer of Danone SA's Turkey division, but she didn't.

Now Timuray is chief commercial operations and strategy officer at the world's second-largest wireless carrier, and she's seeking to help other women balance their career goals with family choices.
Timuray is promoting Vodafone's new effort to recruit female employees who've had a career break, typically to raise children. Its ReConnect program announced Friday is aimed at hiring 1,000 people who have left the workplace for several years -- most of them likely to be women -- and is being rolled out across the 26 countries where it operates. The company is setting aside 500 positions for managers and 500 for front-line workers.
"There are moments where women rethink their professional life," Timuray said in an interview with Bloomberg TV's Francine Lacqua. "After having children, this becomes a difficult balance for many women."
There are 96 million skilled women from ages 30 to 54 on career breaks globally and more than half have experience as a middle manager or in a more senior role, according to estimates from a KPMG study commissioned by Vodafone. More than 80 percent of women on career breaks say more support is needed to return to the workplace, according to a survey by GfK for Vodafone of about 500 women across five countries.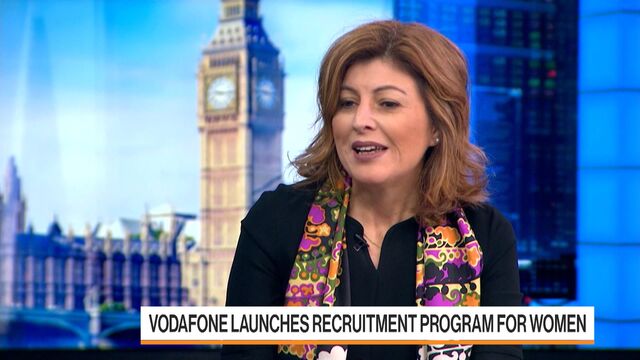 The program includes outreach, training and flexible working options. It follows a Vodafone effort started two years ago to give 16 weeks of paid maternity leave and related benefits to employees globally, of which more than 2,800 have taken part, and a policy to recruit women for 50 percent of new graduate positions. Vodafone also has commercial programs targeting women, including a goal to bring mobile phones to an additional 50 million women by 2025.
The company has more to do to bridge the gender gap among employees, Timuray said. Vodafone wants more than 30 percent of its managers to be women in the next three years, up from 27 percent currently, she said.
"We have come to a stage where we are now constantly trying new ways of lifting that ratio up," Timuray said. "Women in executive positions remain still an important issue and an untapped opportunity for corporations."
Before it's here, it's on the Bloomberg Terminal.
LEARN MORE