Treasury Bulls Gather at Long End as Markets Discount March Hike
By
Rate increase the baseline scenario from tail risk a week ago

Option skews not convinced of higher longer-term rates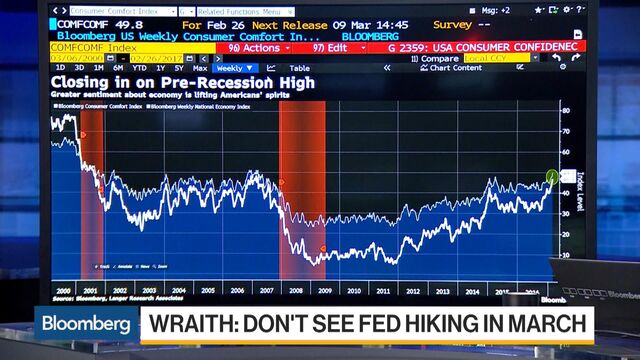 Bond bulls are converging at the longer end of the U.S. yield curve.
While investors may have almost fully priced in a rate increase by the Federal Reserve this month, those in the options market seem skeptical about higher longer-term interest rates.
The difference in implied volatilities between payers and receivers on 10-year yields has turned negative from about eight basis points seen a week after Trump's election, suggesting increased demand to protect short bond positions. Flatter skews indicate receivers richening relative to payers, signaling expectations for lower rates.

The odds of a March rate increase have tripled this week to almost 80 percent following hawkish rhetoric from various Fed officials, based on overnight indexed swaps and the Fed funds effective rate.
With the market now largely convinced of a move this month, and given that the Fed hasn't generally surprised the market, Chair Janet Yellen's speech today and the employment report next week will start to converge the probability to either 0 percent or 100 percent.

The one-month Treasury rate, two years forward -- a proxy for the Fed's terminal rate -- already discounts about six increases of 25 basis points each over the next two years and remains below the December highs. Forwards are fully pricing in 62 basis points of increases by the end of the year, short of the 75 basis points indicated by Fed's dot plot.
The difference in rates between five- and three-year U.S. swaps may flatten given the shift in Federal Reserve's language to raise rates sooner rather than later and the market's reluctance to take the terminal rate much higher.

Investors may need substantial tax reforms from President Donald Trump and a strengthening of macroeconomic data before they price in more rate increases beyond that, though any news of fiscal stimulus may be seen as only extending the business cycle.
Benchmark 10-year yields have been trapped between 2.30 percent and 2.50 percent for about a month now. If the rate manages to break through resistance at 2.50 percent, it could seek 2.64 percent, the high on Dec. 15.

* NOTE: Tanvir Sandhu is an interest-rate and derivatives strategist who writes for Bloomberg. The observations he makes are his own and are not intended as investment advice.
Before it's here, it's on the Bloomberg Terminal.
LEARN MORE