South African Minister Takes Responsibility for Welfare Failure
By and
Minister responsible for inability to deliver on legal pledge

Net 1 contract to distribute payments expires this month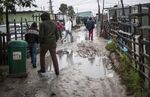 South African Social Development Minister Bathabile Dlamini said she took responsibility for the failure of the country's welfare department to comply with a ruling by the nation's top court.
The Constitutional Court in 2013 said a contract between the South African Social Security Agency and Net 1 UEPS Technologies Inc. was invalid and a tender should be held to secure a new service provider to make welfare payments to more than 17 million people. The Net 1 contract expires this month and no alternative arrangements have been made, threatening to interrupt a program that pays more than 140 billion rand ($10.7 billion) a year to South Africa's poorest people.
"The minister and Sassa accept responsibility for Sassa's inability to deliver" on pledges it made to the court, the agency said in court documents seen by Bloomberg.
The payments are a signature policy of the ruling African National Congress, which says the grants are an important measure to reduce inequality in the nation almost 23 years after the end of white-minority rule. In previous election campaigns, its officials have told rallies that if another party came to power, the payments may end.
Adding to the confusion, Sassa said in the court papers that its chief executive officer, Thokozani Magwaza, earlier this week applied to the court for permission to negotiate an extension of the Net 1 contract without the minister's permission. That case was withdrawn the day after it was filed. Calls to Magwaza's mobile phone went straight to voice mail when Bloomberg sought comment.
Overly Ambitious
In the court papers, the agency said it received advice that it no longer needed to report to the court. It also said a pledge to take over the distribution of payments itself this year had been overly ambitious and could take as long as five years.
Sassa is in talks to conclude a new contract with Net 1, against the advice of the country's finance ministry which, along with the country's central bank and the national Post Office, has proposed alternatives to using Net 1.
Earlier this week, the Black Sash Trust human-rights group filed a case with the Constitutional Court demanding that any contract between Sassa and Net 1 have the court's oversight and that Dlamini report to the court regularly.
The Democratic Alliance, South Africa's biggest opposition party, on Friday joined that case.
"In the circumstances relating to the payment of social grants, there has been abject failure by senior government officials and senior members of the executive, including at least one cabinet member, to satisfy the basic constitutional and legal principles," the DA said in court papers. Dlamini "failed to show any leadership at all, let alone concern regarding Sassa's true state of affairs."
Before it's here, it's on the Bloomberg Terminal.
LEARN MORE