S&P 500 Makes It Six Weeks of Gains as Economic Signals Brighten
By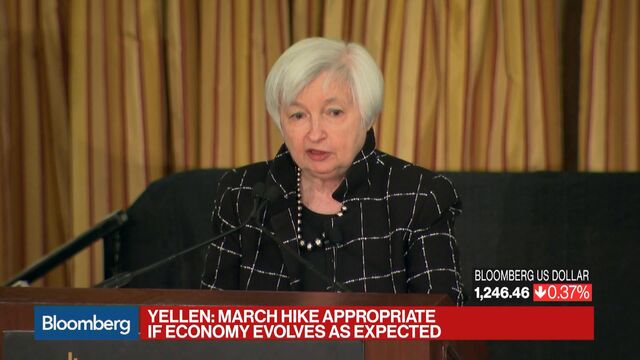 U.S. stocks advanced for the sixth consecutive week as economic data sailed past forecasts and shares of financial companies rose with higher bond yields.
So strong were signals on growth in the U.S. and beyond that investors were left almost completely unfazed by the surging odds of a Federal Reserve interest rate increase, as the likelihood priced by Fed funds futures more than doubled. Chair Janet Yellen on Friday capped the week of rising expectations by explicitly supporting a hike if economic progress persists. The S&P 500 nevertheless rose for the fifth time in seven days.
The benchmark gauge for American equity added 0.7 percent over the five days to end the week at 2,383.12. Helped by President Donald Trump's speech to Congress, the index briefly crossed 2,400 for the first time ever on Wednesday, before closing that session, the best of the year, at a record 2,395.96. The Dow Jones Industrial Average climbed 0.9 percent to end the week 21,005.71 as small-cap shares finished lower for a second week.

"Earnings on a forward-looking basis are going to be higher rather than lower and growth is quite good and maybe accelerates some," Krishna Memani, chief investment officer at Oppenheimerfunds Inc., said in an interview on Bloomberg Television. "The question is in the current context, without any policy initiative, can earnings growth be significantly higher than 7 or 8 percent? If not, one could argue all that information is all pretty much priced in."
Comments from Fed officials calling for a March interest-rate hike came against economic data that is beating estimates at the strongest rate in almost five years, according to a Bloomberg Index measuring the degree to which data surpasses analyst expectations. The gauge advanced for the second straight week and has been in positive territory since November.
The majority of the S&P 500's points were tallied Wednesday as investors embraced Trump's cooler rhetoric in a speech that was short on details. Energy companies jumped on support from higher oil prices. Volume on U.S. exchanges was the year's heaviest.
Financial stocks were the biggest winners on the week, advancing 2 percent after posting the biggest single-day jump since Nov. 10 on Wednesday. Energy shares climbed 1.4 percent as phone shares and real estate companies declined amid five days of higher Treasury yields.
Before it's here, it's on the Bloomberg Terminal.
LEARN MORE