French Election Monitor: Risk of a Le Pen Victory Eases in Markets
By
Macron's campaign gathers pace in challenge to anti-EU Le Pen

French bonds stem biggest yield gap to Germany since 2012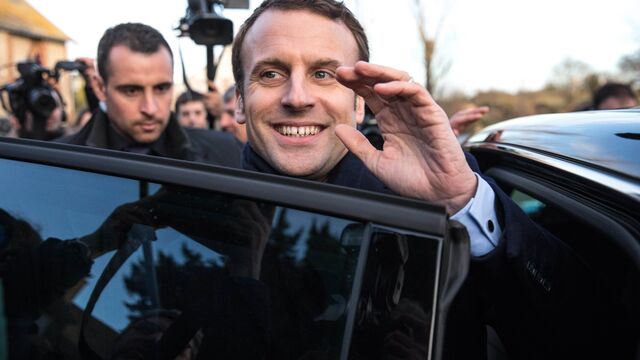 Signs of market stress eased in a week where independent candidate Emmanuel Macron cemented his place as the main challenger to Marine Le Pen's presidential bid.
Moves in bonds and derivatives are signaling reduced concern of a Le Pen victory that could spark France's exit from the European currency union. A poll published Friday showed Macron overtaking the National Front leader for the first time in the initial round of voting next month. Macron leapfrogged past Republican candidate Francois Fillon, who days earlier was forced to deny for the second time in a month that he was quitting after being embroiled in a scandal over family finances.
Here's a look at indicators of market sentiment vis-à-vis the French election:

French 10-year bonds are recouping losses after high-profile allies deserted Fillon and gave Macron an edge. That's closed the yield gap with Germany, which had reached the widest since 2012 as Le Pen gained momentum.

Insurance on French debt tells a similar story. The cost of credit-default swaps to protect sovereign bonds has receded over the past week relative to those of Germany.

With anti-euro Le Pen clinging to a first-round lead in most polls, front-month volatilities have risen in the Euro Stoxx 50 Index that comprises the largest companies in the euro area. Financials have a 21 percent weighting in the index and may bear the brunt of any perception exit from the common currency may become a reality.

Bearish bets on the euro against the yen and Swiss franc have been pared over the past week, reflecting the changing political landscape as well as the U.S. dollar's gains due to increased probability of a Federal Reserve rate increase this month. Euro-yen's three-month risk reversal rate, a gauge of market positioning and sentiment, had declined to the lowest level since 2011 last month.

European credit markets are unruffled by any possibility of redenomination as the European Central Bank continues purchasing bonds under its quantitative easing program. The difference between iTraxx Senior and Subordinated financial indexes -- a barometer of investor sentiment -- is below levels immediately after the Brexit vote.

Implied volatility on CAC Index shows demand to protect downside in French stocks has outstripped those for call options in recent weeks, indicating investors' anxiety about the outcome of the election.
To contact the reporters on this story:
— With assistance by Tanvir Sandhu
Before it's here, it's on the Bloomberg Terminal.
LEARN MORE