Risk of a Hawkish Yellen Has BMO Warning of a 10-Year Yield at 2.75%
By
Further move higher in yield risks breaking 'double top' level

Fed chair to speak at 1 p.m. Friday ahead of blackout period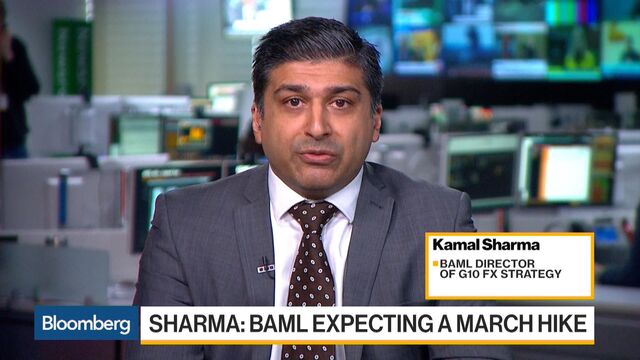 The $13.9 trillion Treasury market could be in for some tough times if Federal Reserve Chair Janet Yellen echoes her fellow policy makers' stance that they should begin raising interest rates this month.
Just how bad it'll get for the world's biggest bond market will depend on whether certain technical yield levels hold up, according to Ian Lyngen and Aaron Kohli at BMO Capital Markets. The benchmark 10-year yield, at 2.49 percent, has struggled to stay above 2.5 percent this week even as odds of a Fed March rate hike soared to more than 75 percent.

That could change with further confirmation from Yellen at 1 p.m. New York time that the central bank intends to boost borrowing costs on March 15. The 10-year yield could quickly rise to 2.55 percent, matching the 2017 high, and then head toward 2.64 percent, the two-year high reached after the Fed's last rate hike in December.
That, according to the BMO strategists, would create a so-called "double top" for rates, which ordinarily would signal a rally ahead. And, in fact, "long-term momentum is still strongly bullish," they wrote in a note on Friday.
The issue, as they see it, is that momentum has been so decidedly bearish that Treasuries could sell off right through that level, leaving 2.75 percent as the next target. That would be the highest 10-year yield since April 2014.
"Given the way the market has traded of late, technicals are far more important," Lyngen and Kohli wrote.
Treasuries have traded in a range of just 25 basis points in 2017 as traders assess President Donald Trump's proposed fiscal plans, such as tax cuts, deregulation and infrastructure spending, along with his stance on trade. To complicate matters, Fed officials including San Francisco Fed President John Williams and New York Fed President William Dudley ratcheted up expectations of a rate hike in March during speeches this week, after the market had discounted the probability of a move so soon.
"We're all really just waiting to hear from Yellen," Lyngen and Kohli wrote. "Our base case is for her to not disturb market pricing too much as the Fed speakers have largely accomplished the goal of pushing market pricing to expect a March hike."