Mexican Central Bank's Peso Support Is Gift to Biggest Companies
By
Monetary authority auctioning $1 billion of forwards on Monday

Contracts may lure bids from companies with dollar liabilities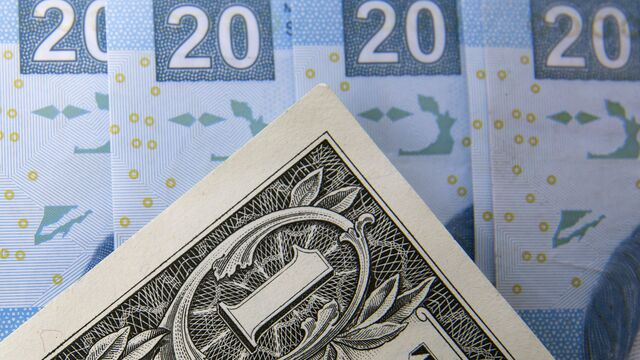 Mexico's new $20 billion plan to support the peso could prove a gift to some of the country's biggest companies.
The central bank will hold its first $1 billion auction of non-deliverable forward contracts on Monday, offering a way for businesses with expenses in dollars but revenue in local currency to hedge against further declines in the peso. Fitch Ratings has said companies including America Movil SAB and TV Azteca SAB are among the most vulnerable to a weaker peso as their overseas debt gets more expensive in local-currency terms.

There should be "healthy demand" for the contracts at the auction as businesses seek protection after the peso plunged almost 25 percent over the past two years, according to Juan Carlos Alderete, a currency strategist at Banorte-Ixe in Mexico City. He said corporate clients of his expressed interest in the auctions after they were announced Feb. 21.
"Large companies that need cheap dollars and have dollar liabilities could take advantage of the auction and lock in a lower dollar rate for the future," he said.
Those businesses saw some relief Friday as the peso surged as much as 2.4 percent following U.S. Commerce Secretary Wilbur Ross's comments that Mexico's currency could recover "quite a lot" if the countries can reach a sensible agreement on the North American Free Trade Agreement. Concern that Donald Trump's administration would seek to derail Mexican exports to the U.S. has helped fuel the rout in the currency.
America Movil, the mobile-phone giant controlled by billionaire Carlos Slim, has to buy phones and network equipment priced in dollars, cutting into margins when the peso falls. Grupo Televisa SAB and Azteca, Mexico's largest broadcasters, pay for the rights to programming produced in the U.S. There are also some Mexican companies -- those that earn their revenue in dollars but have expenses mostly in pesos -- that benefit from a weaker currency.
Banxico announced on Friday it would be offering six different maturities for the contracts, ranging from 30 to 360 days. The auctions will begin at 10 a.m. Mexico City time.
Mexico's peso advanced 2 percent, the most among the world's major currencies, to 19.6071 at 1:40 p.m. in New York. It's trading near the average price of the past 200 days -- a technical indicator that, when breached, may indicate more gains. Trading volume is lower than average ahead of the auction, according to traders.