Fund Managers Seeking Redemption Lag Behind Indexes in February
By
Stocks moving less in lockstep than at nearly any other point

Active managers continue to lag as outflows plague industry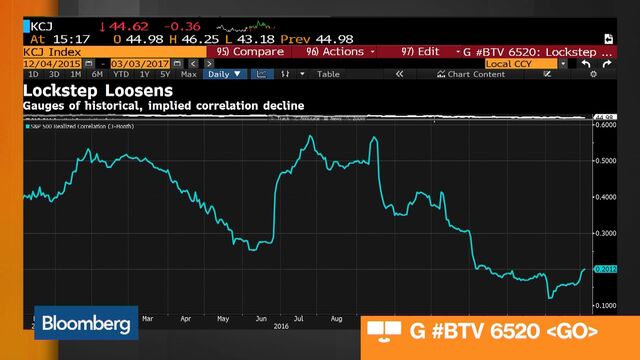 It's been said that the stock-picker's market is back. Returns indicate otherwise.
That's according to data from Bank of America Corp., which show only 35 percent of U.S. active mutual fund managers beating their benchmark in February, down from 52 percent in January. Lagging performance plagued funds of nearly all sizes and styles, with the average fund finishing just below the major U.S. indexes.
Judging by loosening lockstep moves among stocks, that shouldn't have been the case. Equity correlations plunged to a record low, as economic and policy optimism drew distinct leadership on U.S. exchanges. It was a welcome development for fund managers, whose efforts to pick winners have been thwarted for years as shares swung in unison.

"February should have been a better month for stock-picking," the Bank of America team, led by U.S. equity strategist Savita Subramanian, wrote in a note Friday. "But a better backdrop for stock-picking does not necessarily equate to fund managers making the right picks."
The reputation of active funds took a beating in 2016, when only 19 percent were able to outpace major indexes. Money was yanked at an unprecedented clip to the tune of $396 billion, and then pumped into index funds and ETFs, where share selection is neutralized. The pressure to justify higher fees is hammering all corners of the mutual fund industry -- even benchmark-beating funds couldn't escape an onslaught of outflows. For managers, this year's more favorable market environment looked like the path toward redemption.
The S&P 500 Index jumped 1.8 percent in January, with materials and technology shares leading the way and energy shares lagging. Financial and health-care companies took over leadership in February, as the index surged 3.7 percent.
But active managers did a particularly bad job of policing their sector and factor picks, according to the Bank of America analysts. A bias toward low-quality companies and more volatile stocks likely hurt returns, along with an overweight position in consumer-discretionary companies, they wrote. At the same time, fund managers shunned real estate and utilities stocks, two sectors that had higher returns than the S&P 500 as a whole.
Among the hardest hit category were large-cap managers. Less than 29 percent succeeded in outpacing the S&P 500 in February, the data show. The average fund gained 3.6 percent, just under the S&P 500's 3.7 percent return. The bright spot was among mid-cap growth funds, where 63 percent fared better than the Russell Midcap Growth index.

Although correlations dropped, the degree to which returns differ among stocks dropped slightly in February, according to Bank of America data. Still, the overall environment for sussing out securities remained better and continues to improve, they said.
"There was less potential alpha based on return spreads," the researchers wrote. "Although the overall trend is still increasing and giving way to more opportunities to generate alpha."