Ex-Port Authority Chief Deserves Two Years' Prison, U.S. Prosecutors Say
By
Samson engaged in 'outrageous abuse of power,' prosecutors say

Bribery plot involved United route called 'Chairman's Flight'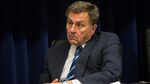 A former close political ally of New Jersey Governor Chris Christie who pleaded guilty to pressuring United Airlines to fly a money-losing route convenient to his family's weekend home deserves two years in prison for his "outrageous abuse of power," U.S. prosecutors said.
David Samson, once chairman of the Port Authority of New York and New Jersey, urged a federal judge to spare him prison when he is sentenced March 6. But that request for probation fails to recognize the audacity of "the Chairman's Flight," prosecutors said.

"Samson makes clear that he still does not embrace the gravity of his crime, nor does he appreciate the incredible harm that corruption, like his, wreaks on this state and its citizens," prosecutors said Thursday in a filing in New Jersey federal court. The scheme "was calculated and entirely corrupt."
Lawyers for Samson, 77, had argued in court papers he received "an extremely narrow benefit" when United reinstated a twice-weekly route from Newark to South Carolina. Jeff Smisek, the former chief executive officer of United Continental Holdings Inc., was ousted after Samson's plea last July, and the airline paid more than $4.6 million in penalties to U.S. authorities. Former United lobbyist Jamie Fox also was charged but died on Feb. 20.
Maximum Term
Prosecutors said Samson should get the maximum term agreed upon in his plea deal. As a former state attorney general who practiced law for 40 years, "Samson certainly understood that using his position as chairman to pressure an airline to confer a purely personal benefit was a criminal and outrageous abuse of his power," they wrote.
The scandal began at a 2011 dinner in a Manhattan restaurant, where Samson told Smisek about his commute from Newark to Aiken, South Carolina. Samson asked Smisek if United would reinstate a flight to Columbia, South Carolina, so he could avoid an hour of driving time from Charlotte, North Carolina.
Smisek said he would consider it. When United balked, Samson arranged for the Port Authority's board to delay consideration of a plan for a United wide-body hangar at Newark Liberty International Airport, which included $10 million in public funding. The board approved the project, and the flight began months later. Samson took the trip 27 times.
"Samson celebrated and reveled that the flight was arranged to suit his fancy," wrote prosecutors, who said he often referred to it as the "Chairman's Flight." Samson was a highly successful lawyer who could afford more convenient travel to Aiken, they said.
Samson's lawyers, arguing for a more lenient sentence of probation and community service, had cited his public humiliation and the professional ruin he had already suffered. They said Samson was in a "precarious" mental and physical condition.
Mental State
Prosecutors countered, saying Samson's mind was strong.
"He was not facing any personal or professional crisis that could have clouded his judgment or diminished his ability to understand the import of his actions," prosecutors wrote. "He was then, and remains now, a man of sound mind and mature judgment. In other words, he knew better."
Samson was prosecuted by U.S. Attorney Paul Fishman, who also secured convictions of three former allies of Governor Christie for politically motivated traffic jams near the George Washington Bridge in 2013. Christie was never charged. But a retired firefighter, Bill Brennan, filed a citizen's complaint in state court that accused him of official misconduct for failing to end the traffic jams, known as Bridgegate.
That case ended Thursday when the Bergen County Prosecutor's Office refused to take up the complaint, despite a municipal judge finding probable cause to refer the matter for further investigation. A ranking prosecutor said in a letter that his office didn't believe it could prove the case beyond a reasonable doubt. Christie's office celebrated in a news release.
"In dismissing this absurd complaint, the Bergen County Prosecutor's Office has reiterated what is the result of now four separate investigations -- the governor had absolutely no role in the incident at the George Washington Bridge," Christie spokesman Brian Murray said.
The case is U.S. v. Samson, 16-cr-00334, U.S. District Court, District of New Jersey (Newark).
Before it's here, it's on the Bloomberg Terminal.
LEARN MORE