markets
Europe Earnings Outshine U.S. to Signal Long-Awaited Rebound
By
Europe's fourth-quarter profit growth is strongest in 2 years

Region's stocks see more earnings upgrades than downgrades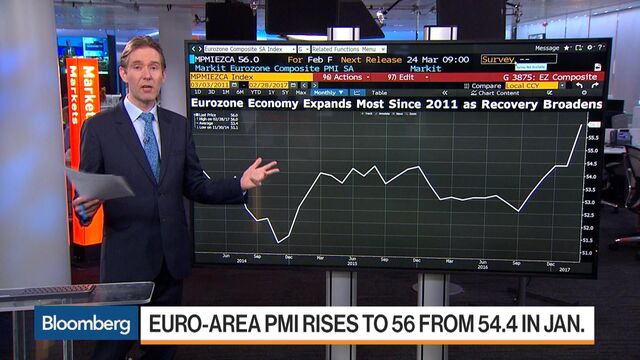 Corporate profit growth in Europe is outpacing earnings from U.S. companies for the first time in a year and a half, with strategists predicting further outperformance in 2017.
With the fourth-quarter earnings season drawing to a close, Stoxx Europe 600 Index members have recorded an 11 percent rise in profits from a year earlier -- the strongest in two years -- versus a 5 percent growth in S&P 500 companies, according to data from JPMorgan Chase & Co. Among factors seen boosting them further in 2017 are a weaker euro, rising commodity prices and a recovery in the previously battered banking sector.
Europe's long-awaited earnings rebound should continue this year as key sectors such as banks and basic resources recover and data signal an acceleration in the economy, according to Emmanuel Cau, an equity strategist at JPMorgan.
"The base is low, as euro-zone earnings are still depressed in the historical context," he said by phone. "Financials' earnings have been a significant drag on the overall market earnings over the last few years, but they are starting to rebound. Banks have seen more net upgrades than the overall market over the last three months, as bond yields rebounded and credit growth accelerated."
There are signs the robust results from the fourth quarter herald better times ahead. Earnings forecasts are in fact improving following actual reports, breaking the typical pattern of downgrades seen at such times, according to JPMorgan data. Since the start of the year, estimates for European profits have increased by 1 percent, led by upgrades to cyclical shares including miners. By contrast, forecasters have cut predictions for U.S. earnings by 1.7 percent in the same period.

There are other positive indications as well. The ratio of the number of European stocks that have seen upgrades in consensus earnings estimates over the past three months versus those that have seen downgrades stands at 1.02, according to strategists at Bank of America-Merrill Lynch. Anything above parity is historically a strong signal for the region's equities, they wrote in a Feb. 28 note.
Lack of earnings growth over the past years in Europe has been the main reason behind European stocks trailing the performance of Wall Street peers, Barclays equity strategists including Dennis Jose wrote in a Feb. 27 note. That has continued so far in 2017, with the Stoxx 600 up 3.6 percent versus a 6.4 percent rally in the S&P 500.
"European companies have failed to grow earnings for nearly seven years now at a time when U.S. earnings have accelerated to prior-cycle highs," the strategists wrote, saying that companies have struggled to raise their prices given the lack of inflation, which has hit margins. "If inflation picks up, we think pricing should improve, thereby driving an increase in European profit margins."
(
Updates with Friday's trading in penultimate paragraph.
)
Before it's here, it's on the Bloomberg Terminal.
LEARN MORE