Eskom Should Split Generation and Transmission, ANC Says
By and
Party says Eskom structure may harm S. African renewables plan

Utility has held off on signing solar, wind deals over costs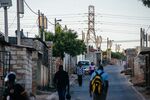 South Africa should consider splitting state power company Eskom Holdings SOC Ltd. into transmission and generation units to prevent it from undermining the country's independent power producer program, the ruling African National Congress said.
While the government has championed one of the world's most successful renewable power programs, Eskom, which generates about 90 percent of the nation's electricity, has opposed signing new deals with solar and wind power producers because it said their costs are too high. That's caused conflict between the company, the energy ministry and President Jacob Zuma, who said last month the renewable program is a priority and that Eskom will sign the power-purchase agreements.
"Eskom plays a role as both a producer and buyer of electricity," the ANC said in documents prepared for a policy conference in June, and seen by Bloomberg. "The current economic arrangement structure has the potential impact of undermining government's Independent Power Producer Programme and creating uncertainty."
The renewables program has drawn 194 billion rand ($14.8 billion) to new infrastructure, while developers are still waiting for Eskom to sign off-take agreements on additional projects valued at 58 billion rand.
Eskom Acting Chief Executive Officer Matshela Koko has argued that while new generation capacity was needed quickly when shortages curbed industrial development, the utility now has a surplus of electricity. Coal-truck drivers also objected to the program on Wednesday, blocking traffic around the capital, Pretoria. Their protest followed Eskom saying it won't renew agreements with 48 transport companies because of a surplus of the fuel caused by weak demand, slow economic growth and renewable energy supply.
Gas Tax
The ANC also proposed a gas-specific tax and royalty system that "should ensure that the state is able to capture a high share of the resource rents." South Africa has planned a program to generate power from natural gas that could grow into wider use of the fuel as exploration to find domestic supplies expands.
A study should be considered to ensure the country has adequate oil refining and storage capacity, the party said. As South Africa approaches regulation requiring cleaner fuels, aging refineries will be challenged to meet the specifications, resulting in more imports of suitable products. Project Mthombo, a refinery building program proposed at least a decade ago to increase capacity, hasn't advanced from planning stages.
Calls to ANC spokesman Zizi Kodwa didn't connect. Colin Cruywagen, a spokesman for Public Enterprises Minister Lynne Brown, whose department has oversight of Eskom, referred queries to the ANC. Eskom referred queries to Brown's department.
Before it's here, it's on the Bloomberg Terminal.
LEARN MORE