Fillon Begging Forgiveness Leaves French Catholics Divided
By
Republican hemorrhaging support as judges prepare charges

Hometown voters distressed by his political reversal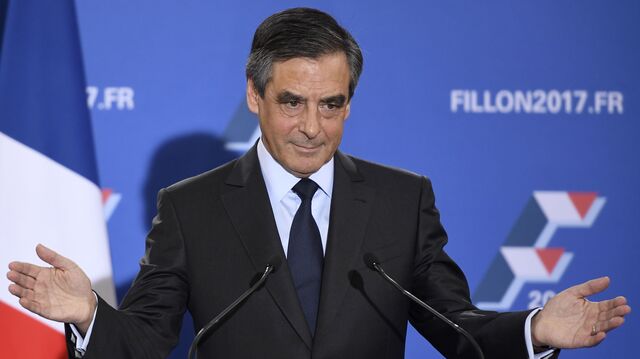 Monks in black robes entered the sparse, 1,000-year-old abbey in Solesmes, western France, as bells tolled for evening prayers to mark the start of 40 days of Christian penitence.
Less than an hour away by high-speed rail, the most famous member of the chapel's congregation was seeking a more worldly absolution in Paris as his Ash Wednesday plans unraveled in dramatic fashion.

Francois Fillon, the Roman Catholics' candidate in France's presidential election, spent the morning trying, and failing, to convince key backers that his campaign can continue as prosecutors prepare to charge him with embezzling public funds. As Fillon's allies in the capital desert him, the faithful are also losing the faith.
"I'm so disappointed, so disappointed," said Clarisse Fortin, 56, who's run a bakery in nearby Le Mans for over two decades. "I really liked him -- for his ideas and because he's from our town. But it's too much, we couldn't forgive him."
Fillon has twisted and turned over the past five weeks as he sought to shake off the investigation. He tried humility at the start of February in his first attempt to put the scandal behind him. On Wednesday he raged at the prosecutors, accusing them of a politically motivated attack. By Thursday night, he was ready to accept the voter's verdict.
"Judge me on what I've done," he told supporters at a rally in Nimes. "I've given 36 years of my life to my country, to my town. I may have made mistakes, but those who have never made mistakes aren't necessarily the fairest."
On Friday, his spokesman Thierry Solere and political adviser Dominique Bussereau both quit, joining more than 60 Republican figures who've said they can no longer support Fillon's candidacy.
Country Mansion
Fortin said that even though Catholic tradition says that confessing a sin gets you halfway to forgiveness -- and Fillon says that what he did was morally wrong although legal -- that can't apply because the candidate hasn't offered to pay back the almost 1 million euros ($1.1 million) his family is said to have taken. Asked for whom she'd vote in the first round on April 23, Fortin sighed and threw up her hands.

Saint Peter's Abbey in Solesmes is less than a mile from Fillon's 15th-century mansion in the Sarthe Valley. Although he's not a practicing Catholic like his Welsh wife Penelope, Fillon says the abbey is the place he retreats to when he needs to get back in touch with his roots.
The father of five grew up and attended a Jesuit school in the region as the son of a local notary and a historian. He built the foundations of his political career there too, as mayor of Sable sur Sarthe for 18 years and the constituency's representative in the National Assembly.
"I am deeply rooted in this French land that I love above all," Fillon said in an August speech.
Le Pen Risk
As his campaign flounders, it's his centrist rival Emmanuel Macron and the anti-euro nationalist Marine Le Pen who are competing to pick up his votes. Surveys suggest that Macron will beat Le Pen comfortably in the presidential runoff on May 7, and yet Bruno Jeanbart, deputy CEO of pollster OpinionWay, says the Republicans' meltdown also increases the chances of an upset by Le Pen.
While Le Pen, facing her own legal problems, has called on prosecutors to stay out of the election battle, Macron on Thursday mocked Fillon's appeals for the electorate to forgive him.
"The vote is not an absolution," Macron told France 2 television.
As the sun set Wednesday on the darkest day yet for Fillon's presidential ambitions, the monks in Solesmes were chanting a Gregorian prayer -- "Forgive us by your grace our sins, committed in the past, and preserves us from them in the future."
'Honest Man'
Across his heartland, voters were filing out of similar services discussing how their candidate's past misdeeds might affect his political future.
"He's going up the Calvary, it's so unfair," said Veronique de Coligny, 55, a reference to the hill near Jerusalem where Jesus Christ was crucified.
"I have sympathy for him because I believe he's an honest man," said her husband, Bertrand, 54, as they left a mass in Sable sur Sarthe. "I don't want to be deprived of my right to have a candidate."
Fillon's upset victory in the Republican primary was built on the backing of voters like the Coligny family. Provincial Catholics recognize him as one of their own, and he won 83 percent of the religious vote in the primary, according to the pollster OpinionWay.
"Heartlands France, provincial and Catholic" won him the nomination, Paris Match magazine said.
'Why Did He Lie?'
But as Fillon surged from third place to win the primary, he sowed the seeds of his present problems, telling voters he was the only candidate whose integrity was unblemished.
That claim riled his opponents Nicolas Sarkozy and Alain Juppé, who'd both had brushes with the courts, as well as their supporters within the Republican camp. And that left Fillon a hostage to fortune in January when Le Canard Enchaine reported that he'd handed his wife and children fake jobs in parliament.
"I'm sure he feels very guilty and is on the path of the penitent now," said Jeanine Germain, an 87-year-old retiree in Le Mans who said she prefers yoga to church. "This man has values. But why was he so stupid to hire his family? Why did he lie to us?"
Before it's here, it's on the Bloomberg Terminal.
LEARN MORE