Brown Says California's Record Boom Will Outlast Trump 'Noise'
Esmé E. Deprez and Matthew Winkler
Governor expresses doubt many plans will come to pass

State drives economic growth with world's fifth-biggest GDP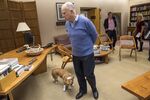 California Governor Jerry Brown said many of the policy proposals emerging in the early weeks of the Trump administration are just "noise" that won't derail his state's record prosperity.
In an interview at his office in Sacramento, Brown expressed doubt that some of President Donald Trump's most ambitious plans -- such as repealing the Affordable Care Act and deporting millions of undocumented immigrants -- will come to pass. The Republican president is fighting battles on too many fronts and will be forced to temper his proposals when faced with economic consequences and political opposition, he said.
"We have noise, we have rhetoric and then we have action," said Brown, whose career in politics spans almost five decades. "Given the all-out attack in so many areas that go beyond the bounds of any conventional or normal political thinking or expectations, there will be a pullback."

Brown, 78, a Democrat in the third year of his fourth and final term, faces unified Republican control in Washington for the first time in his current administration. That threatens to complicate, if not undermine, his agenda in the most populous U.S. state, which has emerged as a stronghold of political opposition to Trump and his allies in Congress.
It's also the country's top driver of economic growth. California's gross domestic product is the fifth-largest in the world, according to data compiled by Bloomberg, bolstered by technology companies including Facebook Inc. and Apple Inc., automaker Tesla Inc. and the agricultural and manufacturing industries. The state's income per capita increased 5.3 percent in 2015, the most in the U.S., Bloomberg data show.
Such contributions to U.S. economic power make California too vital to be ignored, Brown said.
"I don't think there's going to be a lot of effort to hurt California and hurt the California economy when we're such an important part of the American prosperity machine," he said.
State Resistance
State legislative leaders have actively stoked the resistance to Trump with defiant statements and actions such as hiring former U.S. Attorney General Eric Holder, who served under Democratic President Barack Obama, and issuing a federal open-records request on immigration raids. In his state of the state speech on Jan. 24, Brown pledged to defend state laws protecting undocumented immigrants, work to keep residents from losing health-care coverage and continue to combat climate change.
In Thursday's interview, Brown struck a measured tone, reflecting a pragmatic attitude that state officials must walk a careful line between opposition and requests for federal funds. Recently he's asked for a federal declaration of emergency due to recent disastrous floods, which Trump granted, and has sought more funding for the state's water infrastructure.
Brown said it was unlikely Republicans would be able to implement many of the policy initiatives on which they've long campaigned and that he was optimistic that they'd come around to his way of thinking on some matters. On the pledge to repeal Obamacare, "they're going to slow-walk this because it's so complicated," he said. On climate change: "Sooner or later even the Republican Party will acknowledge that climate change is real. And certainly businesses will and as they acknowledge it, they'll have to make these investments. California is well on its way."
Immigration Backlash
QuickTake Can Trump Fix His Immigration Ban?
The economic reality of mass deportation of undocumented immigrants will be too costly to carry out, Brown said. California has more undocumented immigrants than any other state and offers them driver's licenses as well as financial aid for college. The construction, hospitality and agricultural industries are among interests that will emerge to force the president to soften his plan, Brown said.
"Trump will increasingly pick his shots, and in the immigration field there's a lot of forces that will support the people that are here,'' Brown said.
California mayors have been meeting with Brown, state Attorney General Xavier Becerra and legislators to address Trump's immigration crackdown, Los Angeles Mayor Eric Garcetti said in an interview at his office this week.
"The message in California is not: 'We are the resistance.' It's 'Let's get to work,'" Garcetti said.
Garcetti said his biggest challenge in Los Angeles is poverty -- a scourge that plagues the entire state. California's poverty rate is higher than any other when factoring in cost-of-living, according to the U.S. Census Bureau. Economic stagnation is apparent particularly outside the coastal and urban areas, where residents miss out on the fruits of California's tech, financial and entertainment economies.
Mexico Wall
On the proposal for a wall along the Mexico border, Brown said "all possible actions" are open for consideration in California if Trump decides barrier fences currently in place aren't sufficient. The plan for a concrete barrier "has odors of the Berlin Wall," he said. "Who are they locking out and who are they locking in?"
There'll be plenty of opportunities to fight -- or compromise -- with Washington in the months and years ahead, Brown said.
"Politics is a lot of noise -- in fact the noise-to-truth ratio is greater than it's ever been," he said. "I think we should hold our fire till we see the whites of their eyes."
— With assistance by Romy Varghese, and Michael B Marois
Before it's here, it's on the Bloomberg Terminal.
LEARN MORE