Brexit Bulletin: Old Foes Find Common Cause
Blair and Major are back — and this time they're on the same side.
By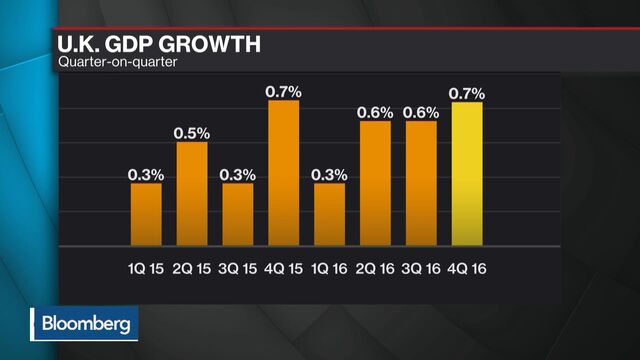 Sign up to receive the Brexit Bulletin in your inbox, and follow @Brexit on Twitter.
Tony Blair, John Major, Nick Clegg and George Osborne make for strange bedfellows.
Yet having spent the best part of two decades tearing into each others' political parties, the old foes are now uniting against Theresa May and her march toward a hard Brexit, Bloomberg's Robert Hutton and Alex Morales report.

Their fear is that the views of the 48 percent who voted to stay in the European Union are going unvoiced. The opposition Labour Party, which is sliding in the polls, has confused onlookers with its response to Brexit. These former political nemeses are speaking out in an attempt to spark a debate that forces May to worry about the Remainers too when negotiating the split.
The trouble for Blair and company is that rhetoric may not win out. Opponents inside government, such as Foreign Secretary Boris Johnson, are accusing them of defeatism and ignoring the will of the people. For the debate to truly change there will likely also need to be a downshift in the economy. 
May's government said on Thursday it is aiming to overturn a House of Lords amendment to its Brexit withdrawal bill that would guarantee the rights of EU citizens already in Britain. Bloomberg View's Therese Raphael argues the prime minister "holds all the cards."
Frexit Fretting
Banks looking to flee Brexit Britain are being put off by the fear of Frexit France.
Marine Le Pen's desire to take France out of the euro and the EU is pushing Paris down the list of possible locations for executives looking to shift jobs from London, according to Bloomberg's Fabio Benedetti-Valentini.
If Le Pen loses, however, a more business-friendly leader such as Francois Fillon or Emmanuel Macron could implement reforms that would make Paris more competitive. Fillon pledges to lower taxes, smooth hiring and firing rules, and scrap the 35-hour work-week, while Macron is finding support for his less aggressive reform plans too.
"It's really black or white – with a Le Pen election no foreign firm would consider moving business to Paris," said Markus Ohlig, a managing director at Greenwich Associates. Fillon and Macron "both have agendas that should create new confidence" for business decisions in favor of Paris.
Separately, European Commission President Jean-Claude Juncker said on Thursday that no other nation will follow what he called a "lose-lose" Brexit.

More Bad News for Banks
Banks were deal another blow late on Thursday when the European Central Bank said those wanting to keep access to EU markets after Brexit would have to set up full-scale operations in the bloc.
"I do not see the ECB issuing banking licenses to empty shell companies," European Central Bank Executive Board member Sabine Lautenschlaeger said. "I would certainly not accept banks' booking all exposures with the euro area entity while having their risk management and internal control systems outside the euro area."
The remarks give further insight in the ECB's post-Brexit thinking on regulation. Lautenschlaeger said the U.K. banks would lose so-called passporting rights in the case of hard Brexit, in which Britain withdraws from the single market for goods and services as well as the political elements of the EU.
Brexit Means No Budget Relief
Chancellor Philip Hammond, overseeing an economy that has defied the doomsayers, may choose to keep his powder dry in his Budget next week as he prepares for the possibility of turbulence during the Brexit process. 
With tax receipts running ahead of forecasts, the budget deficit this year is on course to come in well below the £68 billion predicted in November by the Office for Budget Responsibility.
Even so, any giveaways are likely to be limited and targeted as Hammond tries to keep money aside to deal with potential volatility as Britain embarks on two years of divorce talks.
"He's given himself a lot more headroom than chancellors have done in the past but that's commensurate with the uncertainty that lies ahead," said Adam Corlett, an economist at the Resolution Foundation.
Brexit Bullets
May accuses Scottish First Minister Nicola Sturgeon of sacrificing living standards and services in the interests of a breakaway from the U.K. 
Pulling Britain out of the EU without a trade deal risks opening a "Pandora's Box" on the economy, warns Confederation of British Industry
21st Century Fox Chief Executive Officer James Murdoch says he's worried about making it "harder" for foreign talent to enter Britain
Government's industrial plan to "get Britain firing on all cylinders" lacks a clear long-term strategy, say lawmakers
U.K. companies entered "wait-and-see mode" in last quarter in part because of Brexit, says Adecco
Building merchant Travis Perkins plans to source more materials from British suppliers amid a weaker pound
U.K. Treasury tasks Lucy Neville-Rolfe with overseeing impact of Brexit on financial services
Gina Miller says she is considering a new lawsuit if Parliament isn't given a full vote on the final Brexit deal
And Finally…

Leaving the EU may end up boosting Britain's wireless communications, the owner of mobile network Three U.K. told an industry conference on Thursday. It could even allow the U.K. to end up taking the lead in rolling out so-called 5G technology.
"There's a wonderful opportunity for the U.K. to break with some of the more sclerotic policies of the European Commission, setting a new path for Britain which is pro-growth, pro investment and pro-assuming leadership in technology," CK Hutchison Holdings Finance Director Frank Sixt said in London.
For more on Brexit follow us on Twitter, Facebook and Instagram, and see our full coverage at Bloomberg.com
Before it's here, it's on the Bloomberg Terminal.
LEARN MORE