Your Evening Briefing
Here are today's top stories.
By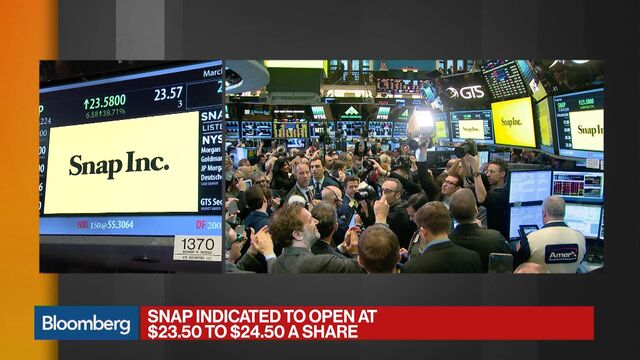 Want to receive this post in your inbox every afternoon? Sign up here.
Snapchat's photos may be fleeting, but its billions of dollars will last forever. Or is that vice versa? Snap, the parent company of the disappearing photo app, went public with a valuation at least twice that of Facebook and four times more than Twitter. But big questions loom: Will investors stick around? And have the people trading Snap shares ever actually used the app themselves? (Actually, maybe more than you'd think.) —Megan Hess
Snap opened at $24 a share, well above its $17 offer price. The company behind Snapchat jumped in its debut on the New York Stock Exchange Thursday, giving it a market valuation of about $27.8 billion. Snap's co-founders, Evan Spiegel and Bobby Murphy, added $1.5 billion to their fortunes, boosting their places on the Bloomberg Billionaires Index.
U.S. Attorney General Jeff Sessions removed himself from investigations into Russian interference in the 2016 presidential election, after the Justice Department acknowledged he had contacts with the Russian ambassador during Donald Trump's 2016 campaign. Sessions testified during his Senate confirmation hearing Jan. 10 that he had no contacts with Russian officials. This is hardly the first controversy involving Russia and Trump's election, and probably not the last.
Has Trump already sidelined his secretary of state? With a pragmatic corporate titan in command, the Department of State is sure to reassert its primacy over American foreign policy—and ease global anxieties about the new president, right? Well, that hasn't happened. Far from curbing Trump's excesses, Rex Tillerson has been blindsided by them.
It's like a cup of coffee, only marijuana. Often, companies market low-dose edibles to first-time marijuana users or those with delicate tolerance levels. But weed sellers have found another use for the chewy high: microdosing. Some say ingesting small amounts of marijuana throughout the workday can have similar effects to coffee.
These Muslim women are inspiring a modest revolution. Over the last few years, so-called modest fashion has started to take off: clothing that's often a little longer and slightly looser, and tends to have a higher neckline. Behind this shift in tastes and preferences are a cadre of amateur designers and bloggers who amassed millions of followers on social media and grabbed the attention of big brands.
The collapse and resurgence of U.S. oil. While two dozen nations are coordinating to cut oil production and rein in the global supply glut, U.S. producers are moving in the opposite direction. Over the last four months, output increased by half a million barrels a day. If that rate of expansion continues, the shale boom will break new production records by summer. This animation shows its collapse and subsequent resurrection.
You should be drinking a highball right now. The classic has evolved into a cocktail that's way more than the sum of its parts. For that, thank the dedicated bartenders in Japan, who perfected the drink and are now re-introducing it to the rest of the world. Take it from the bar director for the Momofuku restaurant group, who recalls his own highball awakening to Bloomberg Pursuits.

Before it's here, it's on the Bloomberg Terminal.
LEARN MORE