With Sessions Under Fire, Trump Faces Threat to His Inner Circle
By
Attorney general accused by Democrats of lying to Congress

Sessions was first senator to back Trump early in campaign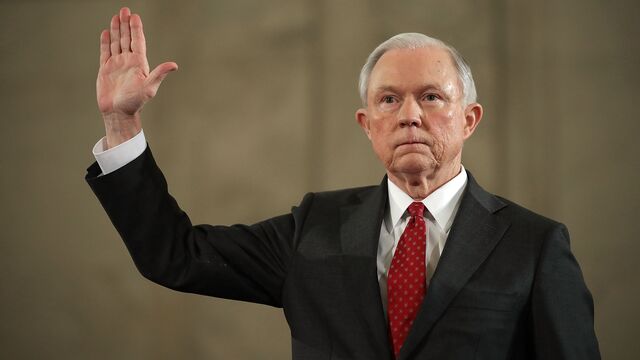 No one in Washington has been more important to the making of President Donald Trump than Jeff Sessions. Now, the attorney general is the focus of a controversy that could hobble a White House still struggling to find its way.
Allegations that the former senator from Alabama lied to Congress by failing to disclose his meetings with the Russian ambassador have the White House on the defensive once again about the Trump campaign's contact with Russia at the same time the government in Moscow was meddling in the 2016 presidential election.
Sessions announced Thursday afternoon he was recusing himself from any investigations involving the election and that his statement to the Senate Judiciary Committee was "honest and correct as I understood it at the time." He said he believed he was being asked about whether he met with Russians as a member of Trump's campaign, not as a senator on the Armed Services Committee.
"In retrospect, I should have slowed down and said, 'but I did meet one Russian official a couple times,'" the attorney general said.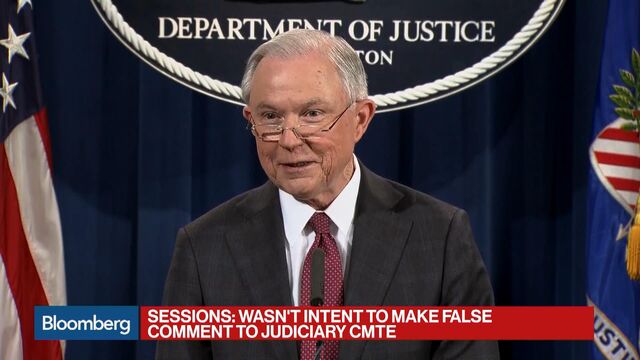 The revelations give Democrats in Congress a fresh shot at attacking a Trump cabinet member they oppose and a new opening to call for a review of Trump's tax returns. The furor is also fueling demands by lawmakers, including a growing number of Republicans like Rob Portman of Ohio and Susan Collins of Maine, for an in-depth and independent investigation of Russia's attempts to influence U.S. politics.
Sessions occupies a unique role in Trump's world. He was the first senator to endorse him as a presidential candidate and he defended him without reservation through the darkest moments of the campaign. After Trump's unexpected victory, Sessions was given his choice of cabinet positions.
Now, Democrats are calling for Sessions to resign, with Democratic Minority Leader Chuck Schumer telling reporters Thursday that the attorney general may even become the subject of an ongoing FBI investigation.
"It would be of Alice in Wonderland quality if this administration were to sanction him to investigate himself," Schumer said before Sessions' announcement.
Trump defended Sessions on Thursday, telling reporters that he had "total" confidence in his attorney general and that he didn't think Sessions needed to recuse himself.
QuickTake Q&A: No lack of twists, questions in Trump-Russia Saga
Sessions fills a key role for Trump, who came to Washington having never held political office.
Unlike Mike Flynn, the national security adviser fired by Trump last month for failing to disclose the extent of his discussions with the same Russian ambassador to Vice President Mike Pence, Sessions was Trump's most important political ally and loyal defender during the campaign and an architect of much of his agenda.
After failing to win confirmation for a federal judgeship in 1986, Sessions returned to Washington as a senator in 1996 and built a network of relationships in Congress. The Trump White House is also in part the Sessions White House, stocked with former Sessions aides and allies, including senior policy adviser and speechwriter Stephen Miller and Rick Dearborn, the deputy chief of staff for intergovernmental affairs.
Miller, who worked for then-Senator Sessions between 2009 and 2015, is one of the president's most influential aides. He has worked to craft Trump's speeches and much of his early domestic policy, including the ban on immigration by refugees and residents of seven Muslim-majority nations.
A 'Clearinghouse'
Steve Bannon, Trump's chief strategist, also staked out his position as a Sessions ally during his time as CEO and executive chairman of Breitbart News. Bannon conducted more than a dozen radio interviews with Sessions, last year calling him "one of the intellectual, moral leaders of this populist, nationalist movement."
In a statement to the Washington Post in January, Bannon described Sessions as "the clearinghouse for policy and philosophy" in the Trump White House.
Already Thursday, the administration and some allies on Capitol Hill were signaling that a repeat of the Flynn firing isn't in the cards. While some Republicans had called on Sessions to recuse himself from any investigations into Russia, the White House and others were rallying around the attorney general, with Senator Ted Cruz dismissing Democratic attacks on Sessions as "naked politics" and "political theater."
But Sessions's failure to disclose the contacts with the Russian ambassador under oath already had numerous Democrats, led by House Minority Leader Nancy Pelosi and Schumer, calling for his resignation. Pelosi said Sessions' "narrow" recusal was inadequate.
"He is clearly trying to maintain his ability to control the larger investigation into the sprawling personal, political and financial grip Russia has on the Trump administration," Pelosi of California said in a statement.
Schumer called for the appointment of a special prosecutor.
"They only do the right thing when they are caught doing the wrong thing," Schumer said. "The attorney general didn't recuse himself until he was caught misleading Congress."
Behind Closed Doors
So far, Republican leaders have sought to focus Russia investigations to the House and Senate intelligence committees, which tend to conduct their business behind closed doors.
Senate Intelligence Chairman Richard Burr, himself under fire for trying to knock down stories about contacts between Trump officials and Russians, defended Sessions Thursday.
"We're not in the business of investigating individuals, senators, that say they were doing Senate business," Burr told reporters Thursday.
Senate Judiciary Chairman Chuck Grassley said in a statement after Sessions' announcement that he told the attorney general earlier Thursday that recusal "may be the best course of action." He said he also asked Sessions to send a letter to the committee clarifying his contacts with the Russian ambassador. Sessions announced that he would send such a letter.
"Any talk of resignation is nonsense," Grassley said.
Senator Lindsey Graham of South Carolina said on Twitter after Sessions' announcement, "It's the best decision for the country and DOJ. I have full confidence in Jeff Sessions serving as attorney general."
Graham, who sits on the Judiciary Committee, which is also probing Russian influence, said earlier Thursday he wanted to know if the FBI is investigating.
"If there is an investigation at the FBI of Trump-Russia campaign activities, I want to know about it, I'm tired of reading about it in the paper. The FBI needs to let us know whether there is or there isn't," Graham told reporters, adding he was meeting with Director James Comey later Thursday. "I'm gonna look him in the eye and he's gonna tell me if there's an investigation or not, and if he doesn't tell me, then he's gonna have a hard time."
Confirmation Battles
The furor could cause trouble for other Trump nominees; Democrats have already slow-walked the confirmations of much of his cabinet. Next week, confirmation hearings are scheduled for Sessions's deputies, who will now face even more scrutiny following his recusal.
Trump nominated veteran prosecutor Rod Rosenstein to become deputy attorney general, the department's No. 2 official, and Rachel L. Brand, a onetime senior counsel at the U.S. Chamber of Commerce, to become associate attorney general, the No. 3 job.
Republicans can also expect Democrats to force votes on investigating Sessions and Russia more generally, and impeachment efforts aren't out of the question given Pelosi's call for "resignation or removal" in a Twitter posting.
Sessions himself has long been a law-and-order stickler.
He voted to convict President Bill Clinton of perjury and remove him from office in his impeachment trial in 1999. And he routinely criticized Eric Holder, who served as attorney general for much of former President Barack Obama's tenure — especially when it came to allegations of misleading lawmakers.
When Holder failed to give senators considering his nomination at least seven Supreme Court briefs he signed while in private practice, a fact disclosed by the Justice Department well after Holder was confirmed, Sessions's spokesman at the time called it "simply unacceptable."
It's the latest headache for an administration that had been basking in the positive reaction to Trump's first address to Congress after a rocky first month in office, and comes as Republicans and the administration face pressure to act on their signature campaign promise to repeal and replace Obamacare in the coming weeks.
— With assistance by Laura Litvan, Arit John, Billy House, Toluse Olorunnipa, Justin Blum, Terrence Dopp, and Shannon Pettypiece
Before it's here, it's on the Bloomberg Terminal.
LEARN MORE