Vucic Sees Tough Race Ahead of Serbian Presidential Election
By and
Opposition asks for international monitoring of election

Vucic warns of risk of parties splitting executive branch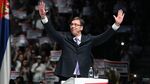 Serbian Premier Aleksandar Vucic said he expected tough competition in next month's presidential election even as the opposition called for international monitoring of the vote and accused him of amassing excessive power.
Parliament speaker Maja Gojkovic scheduled the election on Thursday for April 2. A day earlier, she closed the assembly until after the ballot, citing a need to "protect the dignity of the assembly and democracy." Opposition groups condemned the move as a "prelude to dictatorship" and called on Vucic to unblock the legislature and allow free and fair elections.
Vucic, the former information minister of late strongman Slobodan Milosevic, has pledged to make Serbia ready for European Union entry by 2020, while also balancing his allegiances with traditional ally Russia. Critics have accused him of suppressing the opposition and media, whereas Vucic in turn accused opposition candidates of being financed by "domestic and foreign tycoons."
"It's a question if we can win," Vucic, 46, told Belgrade newspaper Kurir in an interview. Chances are "fifty-fifty at this moment."
Radical Party
Opinion surveys don't show any grounds for the caution expressed by the premier, who remains by far the most popular politician in the Balkan country of 7 million people. A poll by Faktor Plus in late January showed that Vucic would win 55 percent in the first of two potential election rounds, miles ahead of the other candidates.
Vojislav Seselj, the head of Vucic's former Radical Party who was acquitted at a war crimes trial last year and former Foreign Minister Vuk Jeremic both had 12 percent support in the Faktor Plus survey. Former Ombudsman Sasa Jankovic, a non-partisan backed by opposition groups including the Democratic Party, polled at 8 percent.
The premier said that an opposition victory would create a dangerous co-habitation by splitting the executive between the new president and the government run by Vucic's party.
Opposition groups gathered in parliament to repeat their request to Vucic to step down and run for president on equal footing with other candidates. Keeping the assembly closed is a "red line that cannot be crossed" and all opposition groups will take joint steps to "defend the constitutional order."
The opposition, for its part, has initiated a no-confidence process against him because they say he's using his government position unfairly before the vote. Three opposition groups have urged the authorities to invite Organization for Security and Co-Operation in Europe, or OSCE, to send its monitors to pre-empt irregularities seen at past ballots.
Before it's here, it's on the Bloomberg Terminal.
LEARN MORE