markets
Two Percent Inflation Not Enough for Draghi to Shift Policy
By
Euro-area inflation accelerates to 2%, highest since 2013

Policy makers argue weak underlying prices justify stimulus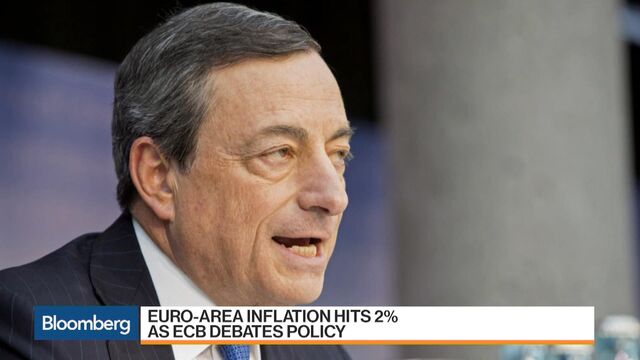 Mario Draghi is looking for a sign -- any sign -- that 2 percent inflation will be here to stay.
The European Central Bank president has tried to silence a debate about accelerating inflation by pointing to weakness in underlying price pressures, arguing that unprecedented stimulus is still warranted. While his argument may hold even after a hefty upgrade of projections due next week, at some point his critics will probably demand a strategy.

Chances are that even by the end of the year, core inflation won't significantly exceed 1 percent as wage growth remains muted, held back by economic slack and unemployment well above 10 percent in some parts of the region. But given operational challenges of quantitative easing, which faces an increasing shortage of eligible assets, Draghi might be willing to accept even small improvements as evidence that price stability is close to sustainable.
"If they start to see core inflation go up, they could just say 'it's going in the right direction, that's enough for us'," said Nick Kounis, head of macro research at ABN Amro Bank NV in Amsterdam. "I think we are starting to get toward the point but it will probably take quite some months."
Official Gauge
The ECB officially uses headline inflation as its prime gauge for setting policy. That rate is now seemingly in line with their goal -- reading 2 percent in February -- prompting calls to end a 2.28 trillion-euro ($2.4 trillion) quantitative-easing program and start raising interest rates.
With much of the increase attributable to energy, policy makers have turned their focus to a measure that strips out volatile components. Core inflation is at a far lower 0.9 percent and the gap with the headline rate is the widest since 2012. That undermines any arguments that price gains are about to spin out of control -- particularly if you follow the ECB's logic that underlying price pressures are an indicator of where inflation will eventually settle.

However, in practice, core inflation has undershot the ECB's target for the majority of the euro area's 18-year history, averaging just 1.4 percent. That means the central bank may choose to focus more on the direction the rate is heading than the actual figure.
"Core inflation will remain on a moderate recovery trend through the forecast horizon," said Fabio Fois, European economist at Barclays Plc in Milan. "Labor-market slack in the euro-area economy remains substantial and this is likely to dampen wages for a few more quarters."
Updated projections due next week will reveal whether the 19-nation euro zone is getting closer to Draghi's goal: Medium-term inflation of just below 2 percent across the entire region that'll prove to be durable and self-sustained.
Even a big upgrade -- as flagged by Governing Council member Jens Weidmann -- won't extort an immediate reaction.
With anti-euro sentiment strong ahead of a series of national elections, the U.K. preparing its divorce from the European Union and a protectionist U.S. administration, the ECB locked in its plans for 2017 stimulus late last year.
Economists predict policy makers will stick to their commitment, even as government bonds are getting scarce in some countries and support for ever-more purchases is wavering.
The debate about the proper scale of monetary support, though, has only just begun and is set to intensify as the economy improves.
"An accommodative monetary policy certainly continues to be appropriate," Weidmann said this week in Ljubljana, Slovenia. "Opinions differ over the right degree of monetary accommodation and the point in time at which the price outlook will have firmed enough to justify a change in communication and ultimately in the monetary policy stance."
— With assistance by Paul Dobson
(
Updates with comment from economist in eighth paragraph.
)
Before it's here, it's on the Bloomberg Terminal.
LEARN MORE