Top Asia Diplomat at State Department Joins Wave of Departures
By
Daniel Russel had been one of a few holdovers under Tillerson

Russel will take up fellowship at Asia Society in New York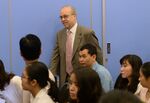 Assistant Secretary of State Daniel Russel, the top diplomat for East Asian and Pacific issues at the U.S. State Department, is leaving the job to take a fellowship in New York, the latest senior official to leave the agency since President Donald Trump took office.
Russel said he was taking up a yearlong fellowship at the Asia Society in New York and will remain a foreign service officer. He said that after more than three years in the position, he was ready for the next challenge and wasn't asked to leave.
"I've assembled a team in our front office with some of the great Asia specialists from the department," Russel said Thursday in an interview. "The bureau itself is very, very solid. The secretary will be well-served until the new person gets there."
The State Department has seen a wave of departures since Trump was elected, leaving a gap at senior levels under Secretary of State Rex Tillerson. As is tradition, all political appointees had tendered their resignations as of Jan. 20, but many who had expected to stay on until replacements had been named were asked to leave instead.
The departures have been particularly numerous at the most senior level. Tillerson isn't expected to fill the job of deputy secretary for management and resources, previously held by Heather Higginbottom, and has begun construction of a cubicle farm in her former office on the department's seventh floor. Counselor Kristie Kenney, one of the most senior foreign service officers in the U.S. diplomatic corps, also was asked to leave. So, too, was Patrick Kennedy, the undersecretary for management, and several people who served under him.
Rare Holdover
Russel was one of the few holdovers, accompanying Tillerson on a recent trip to Germany for meetings with top Japanese, South Korean and Chinese officials. He has also briefed Tillerson several times, unlike many staff at the department who have complained that they've been unable to penetrate Tillerson's inner circle.
A second regional assistant secretary, Linda Thomas-Greenfield, who oversees African affairs, also is departing, for a position at Georgetown University.
"I know that there's a lot of fodder for stories about people walking off in a huff and 'I'm getting out of here,' and I didn't want what was a deliberate and responsible and utterly normal transition to get mixed up with those stories," Russel said.
"I'm also leaving with a tremendous sense of pride about where I think the U.S. is in its relations with Asia and what we've accomplished and what I see the new administration building on," he said.
Before it's here, it's on the Bloomberg Terminal.
LEARN MORE