Schumer Says Sessions Must Resign Over Russia Ambassador Meeting
By
Some in GOP say attorney general should recuse from probes

Administration confirmed Sessions met twice with ambassador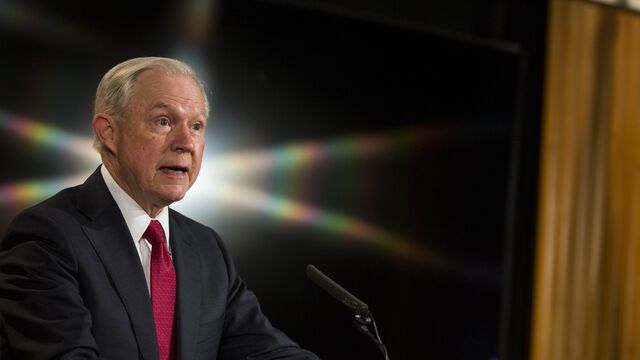 Top Senate Democrat Chuck Schumer joined House Minority Leader Nancy Pelosi in calling Thursday for Attorney General Jeff Sessions' resignation after the government confirmed he met with Russia's ambassador to the U.S. while serving as a prominent surrogate for Donald Trump's campaign.
Sessions testified during his Senate confirmation hearing Jan. 10 that he had no contacts with Russian officials. The White House has dismissed as a partisan attack questions about whether Sessions lied about conversations with Russian Ambassador Sergey Kislyak.
"Because the Department of Justice should be above reproach, for the good of the country, Attorney General Sessions should resign," Schumer of New York said at a news conference in Washington. He also said Sessions may well become a subject of an investigation.
California Senator Dianne Feinstein, the top Democrat on the Judiciary Committee, said Sessions must either recuse himself from any probes into Russian interference in the U.S. election or resign. Democratic National Committee Chairman Tom Perez said Sessions must resign.
The Justice Department on Wednesday confirmed the meetings with the ambassador. The revelation prompted Republican Senator Lindsey Graham and House Oversight Committee Chairman Jason Chaffetz to join Democrats in calling on Sessions to recuse himself from investigations regarding the election.
Pelosi of California, in a statement late Wednesday, accused Sessions of "lying under oath about his own communications with the Russians."
Democrats say Sessions wasn't truthful when he was asked by Senator Al Franken during a Jan. 10 confirmation hearing before the Senate Judiciary Committee what he would do if he learned that anyone tied to the Trump campaign had communicated with the Russian government during the course of the campaign.
"I'm not aware of any of those activities," Sessions said, adding that he had "been called a surrogate at a time or two in that campaign, and I did not have communications with the Russians."
Before it's here, it's on the Bloomberg Terminal.
LEARN MORE