PropertyGuru to Turn Profitable This Year After Expansion Spurt
By and
CEO says no plans for an IPO this year but not ruling out 2018

Focus on artificial intelligence to pay off for company: CEO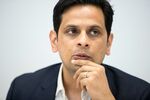 PropertyGuru Pte, the top Southeast Asian real estate website backed by TPG Capital, expects to become profitable this year as it digests a clutch of acquisitions and rides growth in markets such as Indonesia and Vietnam.
"We have hyper-growth, our revenues are growing over 30 percent," Chief Executive Officer Hari Krishnan, 39, said in an interview in Singapore. "We are a market leader in four of the five markets and the largest in the region by any measure whether traffic, total listings, revenues."

PropertyGuru embarked on a series of investments in recent years to expand into new markets and add to its technology and marketing capabilities, driving up costs and cutting into profit. This year, the property search portal will reap the benefits of that expansion, especially in Indonesia and Vietnam, Krishnan said.
PropertyGuru, which has in the past considered a stock listing, isn't planning an initial public offering this year but won't rule it out next year, according to Krishnan. The company is considering exchanges in Singapore, the U.S., Australia and Hong Kong.
For now, the company isn't looking to raise fresh funds. Its last round was in 2015 when it attracted S$175 million ($124 million) from investors including TPG and Indonesia's Emtek Group. The sum was the second-largest amount raised by a tech company in Southeast Asia that year.
String of Acquisitions
PropertyGuru, founded in 2007, says it caters to 16 million users a month. The Singapore-based company has made six acquisitions and a strategic investment since 2011. It invested in Vietnam's Batdongsan last year to gain a foothold in one of the fastest growing countries in the region. Vietnam became PropertyGuru's fifth market after Singapore, Malaysia, Thailand and Indonesia.
This year, PropertyGuru is boosting investment in technology, reflecting the CEO's belief that it will transform the way people interact with property portals. A bulk of the firm's investment budget will go to artificial intelligence and the company plans to roll out an AI-infused service in six months, a move that would help improve user experience. Last year, the firm employed drones to shoot the views from the upper floors of a residential property project in Malaysia, he said.
PropertyGuru's website lets users search for properties based on location, type and price, and see photos of interiors along with floor plans. The listings purport to save time compared with the traditional approach of newspapers and agents, and the company says it often saves money for customers. The web portal makes money by charging agents a fee to use its platform and by selling advertising online and in printed newsletters.