Paul Tudor Jones Pranks Environmentalists at Audubon Awards Gala
By
Investor awards EPA's Pruitt -- before opening right envelope

Audubon ready to fight in Trump era, says CEO David Yarnold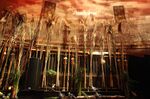 Just about every award presenter this week got a laugh out of the Oscars' Best Picture gaffe, but Paul Tudor Jones took it to a whole new level.
The setting was the National Audubon Society's annual gala in New York, gathering some of the nation's leading environmentalists at tables decorated with hologram-like birds. Pete McCloskey helped pass the Endangered Species Act and co-founded Earth Day. Carol Browner led the Environmental Protection Agency and the White House Office of Energy and Climate Change Policy. The current and former heads of the Natural Resources Defense Council, Rhea Suh and Frances Beinecke, were in the room.

All these folks have reason to feel embattled, not only with glaciers melting and birds losing habitats, but in the era of President Trump. The Republican-controlled Senate is reviewing the Endangered Species Act and EPA Administrator Scott Pruitt plans to roll back Obama-era rules.
The day of Pruitt's confirmation, David Yarnold, the chief executive of Audubon and a former journalist, called him "a dangerous and cynical choice" and said the environmental organization "will be vigilant as Pruitt sets out to dismantle the agency he heads." Yarnold on Wednesday night acknowledged the stakes are high, and said Audubon is well-positioned to take on the necessary fights "in these interesting times," with state-based offices and membership spanning the political spectrum.
But the crowd needed levity, too. Jones delivered, taking the stage to present the Lufkin Prize for Environmental Leadership, a $100,000 award created by Dan Lufkin, co-founder of Donaldson Lufkin & Jenrette.
Click here for Frank Langella and Bryan Cranston's Oscar spoof
"In just a moment, I'll be announcing the winner of the Lufkin Prize, that fantastic prize designed by Dan to go to those doers of good deeds, thinkers and fighters, the people actually protecting our natural resources," Jones said.
It was classic, inspiring Jones -- aside from the way he was flaunting an envelope in his hand.
"Without further ado, the winner is.." He paused to tear open the paper. "Scott Pruitt, EPA. Is Scott here?"
Laughter pealed through Gotham Hall as a member of the Audubon staff ran up to the stage with another envelope. Jones quickly ripped it open.

"Nat Reed," Jones bellowed, now naming the correct prize recipient, who'd been previously announced and printed in the program. Jones then paid tribute to Reed, a compatriot of his in working to restore the Everglades, whose career stands in a stark counterpoint to Pruitt, the former Oklahoma attorney general who repeatedly sued the environmental agency he now runs.
Reed began his career as an environmentalist in Florida, working in state government and then moving to Washington D.C. to serve as U.S. Assistant Secretary of the Interior for Fish, Wildlife and National Parks. He helped ban DDT, save bald eagles and create laws like the Clean Water Act and the Magnuson-Stevens fisheries act. In January 1971, he played a part leading President Nixon to issue an executive order halting a major infrastructure project called the Cross Florida Barge Canal, which is just one of the fights he recalls in a recently published book, "Travels on the Green Highway."
"Nat probably has mentored more people in conservation and environmental stewardship than anybody in the United States today," Jones said of the octogenarian.
"Two of the most incredible things that he's done is his work on the Clean Air Act and the Endangered Species Act. Can you imagine what the world would be like today without either one of those two acts, which never would have gotten passed today? Certainly, I remember the smog in New York City, the smog in Los Angeles. Can you imagine, we'd be like China today, where potentially we wouldn't be able to breathe."
To read about Pruitt's plans to roll back Obama-era rules, click here.
Jones closed his remarks by quoting John James Audubon about turning to nature for solace in adverse circumstances. "Many a time, at the sound of a wood-thrush's melodies have I fallen on my knees," Jones said, reading a longer passage. 

That quote, for Jones, summed up what has made Reed so consistent and persistent an environmentalist, showing up day after day, year after year. "You can't just pull out arguments of sustainability or academic arguments about economic benefits," Jones said. Being an environmentalist "requires the sustenance that comes from those moments of grace that we all get when we're alone in the woods and hear the song of a bird."
Before it's here, it's on the Bloomberg Terminal.
LEARN MORE