Kuroda's Core Price Gauge Rises for the First Time in a Year
By
Bank of Japan is counting on oil and a weak yen to help CPI

The job market is tight, but consumers are wary of spending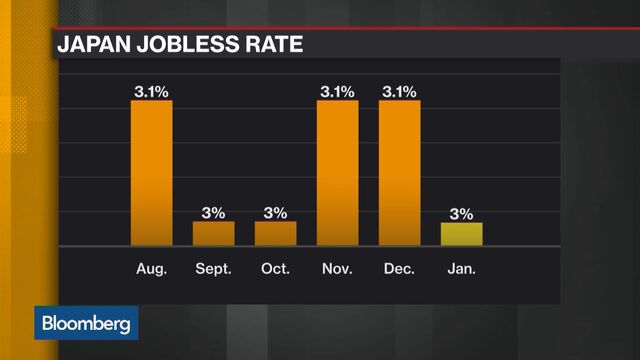 The Bank of Japan's preferred measure of consumer prices rose for the first time since December 2015, offering some hope that inflation will begin inching toward Governor Haruhiko Kuroda's 2 percent target this year. Household spending dropped, even as the job market tightened.
Key Points
Consumer prices excluding fresh food increased 0.1 percent in January from a year earlier (forecast 0 percent).
Excluding fresh food and energy, prices rose 0.2 percent (forecast +0.2 percent).
Household spending dropped 1.2 percent (forecast -0.4 percent).
The jobless rate edged down to 3.0 percent (forecast 3.0 percent), the lowest level since the mid 1990s.

Big Picture
Stoking inflation is at the heart of Japan's economic revival efforts and the hope is that higher oil prices and a weak yen will begin to turn things around in 2017. The prospect of price gains is already shifting debate over monetary policy, away from the question of further stimulus to the timing of interest-rate increases. One BOJ board member, Takehiro Sato, earlier this week indicated there's a possibility of a rate hike later this year because inflation could hit 1 percent.
Yet the sustainability of any price gains in Japan remains unclear, particularly given tepid consumer spending and slow wage growth. More clues on the outlook will come after the BOJ's next policy meeting, which ends on March 16, hot on the heels of a gathering at the Federal Reserve that may see the interest-rate gap between the two economies widen.
Economist Takeaways
"The gain in January is mostly explained by a rebound in oil prices, especially gasoline and kerosene," said Meiji Yasuda Life Insurance Co.'s chief economist, Yuichi Kodama, who expects core CPI to rise toward 1 percent this year. "But it's still far from the 2 percent target, so the BOJ will have little choice but to keep on with its current monetary policy. Expectations over tapering may arise in the markets, but it would be difficult to justify."
"When you look at the overall economy, we'll most likely see a slight uptick going from spring to summer," Martin Schulz, senior economist at Fujitsu Research Institute in Tokyo, said on Bloomberg TV. "We see stronger demand, now on exports, and production is gradually picking up as well." 
Schulz, who noted the weakness in consumer spending, said he sees a solid basis for investment in Japan.
Details
The job-to-applicant ratio was 1.43 in January, unchanged from December and at the highest level since the early 1990s.
Overall consumer prices rose 0.4 percent in January from a year ago (forecast +0.4 percent).
February consumer prices in Tokyo less fresh food -- an early indicator for how the national figure may turn out -- fell 0.3 percent (forecast -0.2 percent).