AIB to Pay First Dividend Since 2008 as It Sees IPO `Sweet Spot'
By
Pretax profits top 1 billion euros for third straight year

This year is 'appropriate time' to consider IPO, Noonan says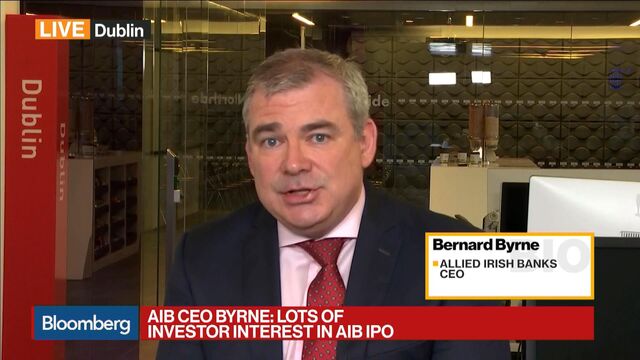 Allied Irish Banks Plc said it will pay its first dividend in nearly a decade as the lender prepares for an initial public offering as early as the second quarter.
Dublin-based AIB will pay 250 million euros ($263 million) in dividends after posting pretax profit of 1.7 billion euros for 2016, the firm said in a statement. The lender's capital ratio jumped 2.3 percentage points during the year, surpassing analysts' expectations.
The dividend is the company's first since 2008. The financial crisis that year ultimately led the government to take over AIB as part of a 20.8 billion-euro state bailout. The dividend is seen as one of the last steps for the lender before the government sells part of its holding in an IPO.
The market is in a "sweet spot at the moment," AIB Chief Executive Officer Bernard Byrne said in a Bloomberg Television interview with Manus Cranny and Anna Edwards, adding the second quarter appeared to be a "good time to go" for the share sale.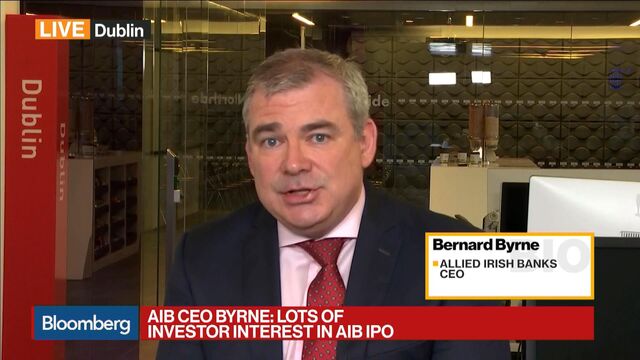 The results "confirm the view that 2017 represents an appropriate time to consider an initial public offering of AIB," Irish Finance Minister Michael Noonan said in an emailed statement after the results were published.
Read more: AIB's recovery from its near death
AIB's fully loaded common equity Tier 1 ratio, a key measure of capital strength, stood at 15.3 percent at the end of the year. The bank's net interest margin increased to 2.25 percent from 1.97 percent a year earlier.
The earnings "demonstrate strong underlying business momentum," analysts at securities firm Davy including Diarmaid Sheridan said in a research note. The dividend and capital level were the "key standout," as the analysts has estimated a CET1 ratio of 14.6 percent.
Mortgage lending increased 22 percent as the bank said it boosted market share in that business. The lender released 294 million euros of reserves against bad loans as it restructured customer debt and the economy improved.