Fillon Sets Scandal Aside for Key Campaign Event: The Farm Show
By
Annual fair attracts all candidates, wooing 600,000 visitors

Macron hit by egg, Le Pen heckled as farmers vent on crisis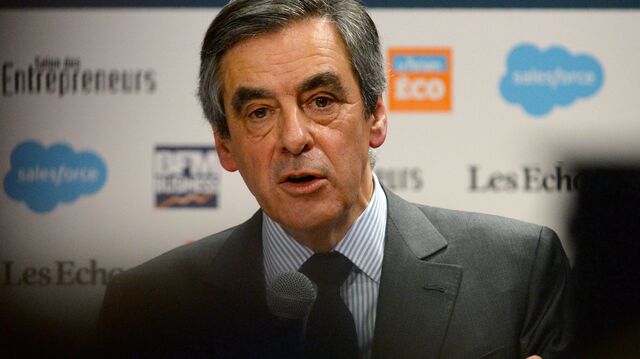 The worst day yet of Francois Fillon's troubled presidential campaign began with crisis talks and an emergency press conference. Then he cleared his schedule to inspect cows and pigs.
That's how important France's annual agriculture show is in election years, especially in France's most unpredictable vote in decades. Rivals Emmanuel Macron, Marine Le Pen and Benoit Hamon also put in or plan appearances this week at the fair, in a convention center in southern Paris, walking through rows of beef and dairy cows and pens filled with well-scrubbed sheep.

Attending the annual 10-day event -- part livestock fair, part massive food hall, part trade show -- is a must for France's office holders and office seekers. While fewer than 2 percent of the French are farmers, the entire country is raised to cherish the food that comes from their animals and their land. Hence Fillon's visit on Wednesday after he earlier announced angrily that he's staying in the race even though he's been summoned for interrogation about hiring family members as legislative aides.
"It would have been a disaster for him had he not come," said Christian Perrin, a 62-year-old meat farmer in Sainte-Barbe, in the Moselle region of eastern France, standing in front of Hangora, his five-year-old 1,400-kilogram (3,000-pound) Rouge des Pres cow. Perrin and other farmers had spoken to the anti-immigration Le Pen Tuesday and independent centrist Macron Wednesday morning, and will be on hand when Socialist Hamon visits Thursday. Every major member of the government went over the weekend, including President Francois Hollande.
16,800 Wines
More than 600,000 people attend the show every year, about 1 percent of the French population. Every night, television news reports on the event, both the political visits and the event itself: In addition to the animals of all varieties, there are food and product stands from every region of France and 21 foreign countries. Organizers say 16,800 wines and 5,240 different food specialties will be tasted.
"The national farm fair (is) an important public appearance event for politicians of all stripes, not only in times of Presidential elections," Julien Manceaux, senior economist at ING in Brussels, said in a note to clients.
The Fillon campaign was thrown into chaos Wednesday morning when their candidate failed to show up for his morning visit to the show, leaving aides at a loss to explain his absence. After his midday statement to rebut allegations of abusing public money, he headed to the agricultural fair to demonstrate that it was business as a usual as a raft of Republican party allies announced they were withdrawing their support.

He was surrounded by supporters. Macron, for his part, was hit in the face by an egg later the same day. Tuesday, two young women tried to interrupt Le Pen by shouting slogans, but they kept their shirts on, unlike the protester who interrupted a Le Pen speech last week. The owner of a publishing house banged pots during Le Pen's visit and said she and Fillon should both be forced to step down because of graft investigations. 
Read more about the Fillon investigation: QuickTake Q&A
"We are an embarrassment to the world," shouted the editor, Philippe Nolot.
This year's show has particular importance, not just because it comes less than two months before the April 23 first round of the most unpredictable presidential election in memory, but also because the French farming world is in crisis, buffeted by historically low prices for milk and other products. Agricultural unions say a farmer commits suicide every two days.
An Ifop poll released Feb. 27 said 35 percent of farmers would vote for Le Pen in the first round of voting, up from the 19.5 percent she won from them in 2012. Fillon would get 20 percent, down from the 44 percent who voted for his party's candidate, Nicolas Sarkozy, in 2012. Macron would take 20 percent, while Hamon would get 18 percent, up from 13.5 percent that Hollande won. Compared to the overall population, that's more support for Le Pen and less for Macron.
Milk Prices
Denis Darque, 51, gets about 315 euros ($331) per 1,000 liters of milk from his 50 cows in the Pas de Calais region, and estimates he needs 340 euros to break even. The average price paid to French milk farmers may be up from 280 euros at its lowest early last year, but it had been as high as 400 euros in 2014. He blames the multinationals, which he said impose milk prices, imports that undercut French producers, and overproduction after the European Union ended milk quotas in 2015.
"I'm not a clear supporter, but at least she listens," he said after meeting Le Pen. "She's right behind us. There's no one else who has done anything for us."

Le Pen said at the show that the EU's agricultural policy was "a total failure" and that she'd replace it with a system of national aid if she succeeds in pulling France out of the bloc. "We need to maintain the aid but do it through a national system where we decide where it goes and how it's spent," she said, also criticizing big companies for forcing down prices paid to farmers.
Human Fences
Thierry Chabot, a 40-year-old farmer from the Jura mountains, watched Le Pen go by, surrounded by a scrum of cameras as farm hands scrambled to form human fences to prevent reporters tumbling into hay and on to animals. He gets a much heftier 500 euros per 1000 liters because his milk from Montebeliarde cows goes to make certified cheeses such as Comte and Mont d'Or, much of which is exported. "Leaving Europe is insane," he said. He'll grudgingly vote for Fillon.
 
So will Perrin, the meat farmer who met all the three main candidates but said he's not sure any of them have what it takes to improve the lot of farmers. He inherited his farm 40 years ago, and is about to pass it on to his son-in-law. "I worry if I'm giving him a poisoned chalice," he said. He gets about 1,500 to 1,700 euros for each 18-month-old calf he sends to slaughterhouse -- roughly the same as 20 years ago, he says.
He said Fillon promised to slash the paperwork and simplify rules. Macron, he said, promised special aid for young farmers, and to introduce more competition for the companies that buy meat and milk. He judged Fillon as the most "statesmanlike," though he said he was impressed by Macron's knowledge, and by Le Pen's commitment to farming.
"Of course they can say anything, what matters is what they do," he said.
Before it's here, it's on the Bloomberg Terminal.
LEARN MORE