markets
Fed's Powell Says Case for March Rate Hike Has `Come Together'
By
Balance of risks has shifted to the upside on fiscal policy

Fed is as close to mandates as it's been in 'very long time'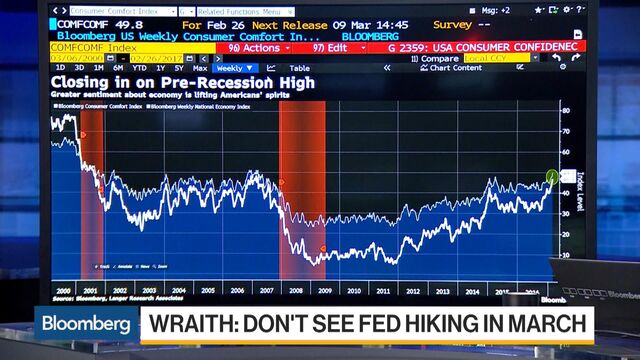 Federal Reserve Governor Jerome Powell said the case for a rate increase at the U.S. central bank's March meeting has "come together," joining the chorus of Fed officials signaling a hike is coming soon.
"We're as close to our mandates as we've been in a very long time," Powell said, speaking in an interview on CNBC on Thursday. "The case for a rate increase in March has come together, and I do think it's on the table for discussion."
Powell said that he still sees three rate increases as appropriate for this year, though that outlook could change along with conditions in the economy. Powell's comments on Thursday were in line with or slightly stronger than his previous statements, including his Feb. 22 remarks that it would be appropriate to raise interest rates "fairly soon. "
The policy-setting Federal Open Market Committee meets on March 14-15 in Washington, and investors are looking for an increase at that gathering after New York Fed President William Dudley and Fed Governor Lael Brainard this week both expressed a newfound willingness to raise rates soon.
Accelerating inflation, a stronger labor market, nascent wage gains and a relatively benign international outlook are giving Fed officials the confidence to advocate a faster path for rates this year. The central bank expects to make three increases in 2017, based on its December economic projections. If that happens, it would mark a pickup from the Fed's one-a-year pace in 2015 and 2016. The FOMC will give its new quarterly forecast in March.
Solid Momentum
"The momentum in the economy is solid," Powell said. "The economy has behaved pretty much as we expected. In the meantime the balance of risks, which has been to the downside in recent years, has really shifted to being even and perhaps lifted to the upside because of the possibility and indeed likelihood of some fiscal action."
Markets see a 90 percent chance of a March rate increase, up from just 40 percent at the end of last week. Powell, like Brainard and Dudley, has a permanent vote on monetary policy.
Relatively few data releases stand between the Fed and its March meeting. The most significant will be an employment report on March 10, and economists expect it will show that employers added 175,000 people to payrolls in February. Fed Chair Janet Yellen has said the economy needs to add just 75,000 to 125,000 jobs a month to keep the unemployment rate steady.
Yellen herself will speak on Friday in Chicago, giving the Fed chair an opportunity to either cement or walk back expectations for a rate increase this month.
Weighing in on options for the balance sheet, Powell said on Thursday he doesn't think the Fed has lifted rates high enough to begin letting it shrink.
Asked if he plans to remain at the Fed, Powell, 64, said he has no intention of leaving. His 14-year term ends in 2028.
Before it's here, it's on the Bloomberg Terminal.
LEARN MORE