markets
Deutsche Telekom Lowers Value of BT Stake by $2.3 Billion
By
German carrier records impairment on holding after stock drops

Company creates new unit for actively managed assets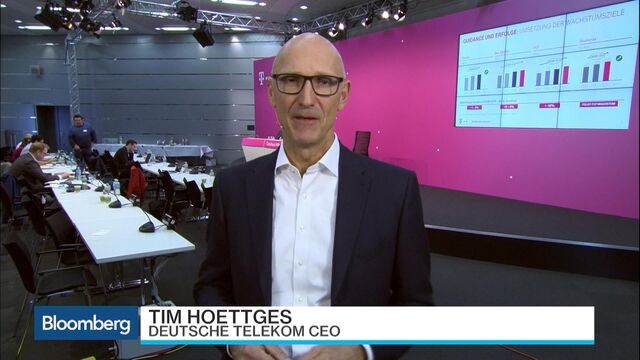 Deutsche Telekom AG wrote down its stake in British phone carrier BT Group Plc by 2.2 billion euros ($2.3 billion) and placed it in a new unit for actively managed investments led by the company's top M&A executive.
The 12 percent holding, valued at about 5.1 billion euros at the end of last year, is part of a group of assets that also includes the company's Dutch unit and its Deutsche Funkturm tower business. It will be headed by M&A expert Thorsten Langheim, as the company tries to better manage its investments, according to a statement Thursday.
"The objective of the new unit is to actively manage and increase the value of selected subsidiaries and equity investments," the company said. Deutsche Telekom wants to give the assets "the level of entrepreneurial freedom they need to promote their strategic further development."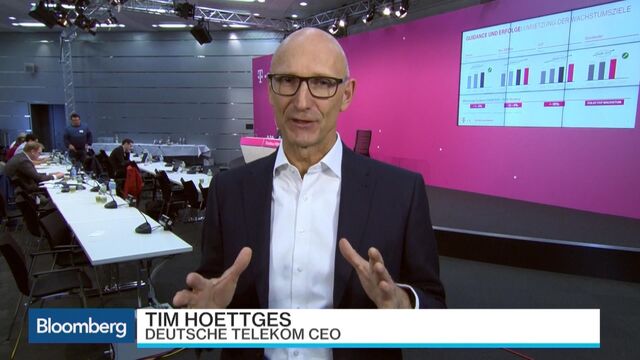 The move may signal a greater willingness to part with the BT stake, whose value has  dropped 32 percent in the past year before accounting for the value of the British pound. The German carrier, which got a BT stake when it sold its U.K. wireless carrier EE last year, is focused on fighting intense competition in its home market while seeking to maintain growth in the U.S.
Uneasy Asset

"BT is a great asset, great company," Deutsche Telekom Chief Executive Officer Tim Hoettges said in an interview on Bloomberg TV. "We're doing everything to support BT."
Shares of Deutsche Telekom declined 1.6 percent to 16.22 euros at 12:54 p.m. in Frankfurt. BT added 1 percent to 331.65 pence in London.
In December, Deutsche Telekom cited increasing unease over its investment in BT, saying a proposal by U.K. authorities to legally separate the British carrier's Openreach network division is "extreme" and would hurt the country's telecoms market. Splitting BT and Openreach would make the U.K. "less investable" by adding risk and costs, Deutsche Telekom said in a letter to U.K. regulator Ofcom at the time.
The lock-up period for Deutsche Telekom to keep its BT stake, agreed when it sold EE, expires at the end of July. The new Deutsche Telekom segment with the selected assets, called Group Development, will also include investments in Scout24 AG and Stroeer SE, among others.
The unit will also be in charge of M&A strategy. Hoettges earlier this week called for European regulators to allow for greater consolidation in the region to spark investments in the latest mobile phone technology.
U.S. Deals?
The BT writedown contributed to a fourth-quarter net loss of 2.1 billion euros. Deutsche Telekom lowered the value after the British company's stock was hurt by the U.K.'s plans to leave the European Union and a falling pound. The writedown doesn't affect the company's cash flow and it will reassess the book value every quarter, the carrier said.
Deutsche Telekom also forecast full-year earnings that trailed analysts' estimates as tough competition in Germany weighs on prices and subscriber gains. The company projected growth in earnings, stripping out interest, taxes, depreciation, amortization and other items, of just under 4 percent in 2017 to 22.2 billion euros. Analysts predict 22.6 billion euros on average.
Hoettges is seeking to win wireless and business clients in Germany in the face of competition from Vodafone Group Plc, United Internet AG and Telefonica SA. It's all good news at the company's T-Mobile US Inc. division, led by John Legere. The unit added 1.2 million monthly wireless subscribers in the fourth quarter, more than any other mobile phone company in the U.S., by pitching free video streaming and unlimited data plans for consumers hooked on Facebook, YouTube, or Netflix.
Deutsche Telekom is open to all options when it comes to M&A in the U.S., provided they create value for its "kingmaker asset," though it is under no pressure to act as the U.S. business is doing well, Hoettges told reporters. Specific discussions aren't possible because of a ongoing spectrum auction, he said.
— With assistance by Francine Lacqua
(
Updates with comments from CEO starting in fifth paragraph.
)
Before it's here, it's on the Bloomberg Terminal.
LEARN MORE