China Markets Chief Exits Crisis Mode With Cautious Reforms
Bloomberg News
CSRC's Liu Shiyu is shifting gears after a year on the job

IPO registration, MSCI still uncertain as party congress looms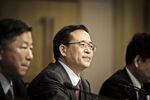 One year into his job as China's top securities regulator, Liu Shiyu is shifting focus from fighting market crises to pushing through cautious reforms.
After arriving at the China Securities Regulatory Commission in the wake of a stock-market meltdown last February, Liu spent much of his early tenure trying to revive investor confidence. Now, with the Shanghai Composite Index back in a bull market, he's rolling out a steady stream of initiatives that were put on hold during the crash.

Liu and his team fleshed out their latest plans in a press briefing in Beijing on Sunday, including a proposal for China's first onshore oil futures and a pledge to reduce the nation's backlog of initial public offerings. Over the past three months, the CSRC has also signed off on the Shenzhen-Hong Kong exchange link and loosened curbs on stock-index futures.
While Liu has shown few signs of urgency on two items at the top of investor wish lists -- comprehensive IPO reform and entry into MSCI Inc.'s global equity indexes -- he signaled at the briefing that this will be a year of "progression" for the regulator.
"In 2016, the CSRC's main goals were to restore stability and confidence," said Rajiv Biswas, Asia-Pacific chief economist at IHS Markit in Singapore. "In 2017, the focus is expected to shift to managing financial risks as well as progressing with reforms at a gradual pace."
The CSRC didn't respond to a faxed request for comment.
New initiatives have become more palatable for China's ruling Communist Party now that markets have steadied. The Shanghai Composite is up 22 percent from last year's low, while price swings in the gauge have shrunk to the smallest in more than two decades. China's bond market and the yuan have also stabilized after bouts of weakness at the end of 2016. The Shanghai gauge slipped 0.4 percent on Friday amid a retreat in regional markets.
Read more: A QuickTake on China's market meddling
"The absence of crisis, and a more stable environment, is an accomplishment," said Karine Hirn, a partner at East Capital Asset Management in Hong Kong. "There was an important need to restore confidence."
Liu, who was formerly chairman of Agricultural Bank of China Ltd. and a deputy governor at the People's Bank of China, replaced Xiao Gang at the CSRC just weeks after a botched attempt to introduce stock-market circuit breakers in January 2016. Liu moved quickly to restore confidence by encouraging local funds to buy.
Employing a colorful rhetoric rare among politicians in Beijing, he also vowed to take on the "crocodiles" and "barbarians" of China's capital markets. During his time in office, the government has imposed heavy penalties on market manipulators, including a 12.05 billion yuan ($1.75 billion) fine against former hedge fund manager Xu Xiang and his collaborators, China's largest ever for individual economic crimes.
While the Shenzhen link and plans to roll out new hedging products have been greeted positively by investors, more dramatic reforms appear unlikely before a twice-a-decade leadership reshuffle toward the end of 2017. This year's Communist Party congress is taking place amid calls from some analysts for a super regulator to merge China's existing financial agencies under one umbrella, although it's unclear whether authorities will adopt such a plan.
In the meantime, the CSRC is likely to move forward cautiously, according to Christopher Balding, an associate professor at the HSBC School of Business at Peking University in Shenzhen.
"I would expect them to tentatively push some of these issues, but very tentatively," Balding said. "They are probably looking to signal a return to normalcy without making significant changes."
— With assistance by Gary Gao, and Dingmin Zhang
Before it's here, it's on the Bloomberg Terminal.
LEARN MORE