'Grim Reaper' Prosecutor Takes Aim at Samsung's Lee
By
Lawyer probing Korean scandal has history of charging bosses

Confucian blogger once slashed in neck by defeated opponent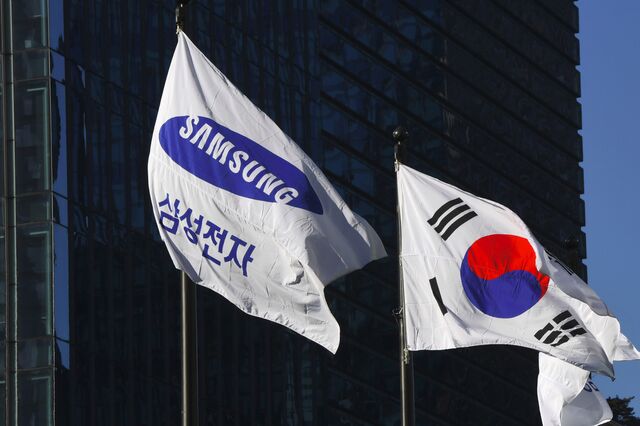 Special prosecutor Park Young-soo is going after South Korea's most powerful business leaders and politicians, but he's faced tougher opponents before.
In 2015, Park was slashed in the neck with a box cutter by a man he defeated years earlier. He suffered a 6-inch gash and had to be stitched up twice.
Now, Park has indicted 30 people in an investigation into corruption surrounding the nation's president. The probe has ensnared the president's confidante, a former university president and head of the country's horseback riding association. Most prominent is billionaire Jay Y. Lee, the de facto head of the Samsung Group, who is fighting allegations the conglomerate traded cash for political favors.

Putting the heir to a $238 billion empire behind bars, even temporarily, is the biggest accomplishment yet for Park, whose career includes arresting two other chaebol bosses. Business leaders have cycled in and out of jail for years, but tolerance among South Koreans seems lower this time, with people marching in downtown Seoul and leaving baskets of flowers and chocolates outside his office with messages such as "Keep on fighting!"
"This special prosecutor seems to not tolerate the chaebol whatsoever," Lee A-rum, a 25-year-old service-industry worker, said in Seoul. "Taking this opportunity, I hope society will become more just."
The 65-year-old prosecutor was appointed by President Park Geun-hye in November amid allegations of influence peddling that extended to her longtime confidante, Choi Soon-sil. Both have denied wrongdoing.
A former leader of the Seoul High Prosecutors' Office, he was among two candidates nominated by opposition parties in accordance with South Korean law.
"The public's desire is for the special counsel team to uncover the whole truth, and I intend to do just that and devote my everything to it," he said in December.
Park, who isn't related to the president, had a history with the chaebol even before this latest investigation. In 2003, he uncovered accounting fraud at SK Group and arrested Chairman Chey Tae-won. Then, in 2006, he oversaw the probe into Hyundai Motor Co.'s slush funds, which led to the arrest of Chairman Chung Mong-koo. Chey and Chung were both convicted and subsequently pardoned.
Park also investigated whether Dallas-based Lone Star Funds' acquisition of Korea Exchange Bank was at an undervalued price, though prosecutions against two former officials from the bank and the finance ministry failed. Lone Star wasn't charged with wrongdoing.
For all that, local media started calling him the "Chaebol Grim Reaper."
"Chaebol top tiers, they really don't think of themselves as having anything to do with ordinary Koreans," said Hank Morris, who has lived in South Korea for three decades and is an adviser for Argentarius Group, a financial services company. "They think of themselves as kind of an elite tier, almost similar to what an aristocracy is in a monarch.''

Park was born in 1952 on the southern island of Jeju, the farthest place from the center of power. He graduated from Seoul National University with a degree in philosophy and then earned his master's degree in law at Korea University.
After passing the bar exam, Park started his career in 1983 in the Seoul city prosecutor's office. Early days involved busting gangsters, gamblers and drug traffickers.
He first entered the public arena in 1987, when he handled the investigation into the mass suicide of 32 members of a religious cult.
Park was promoted to chief of the Seoul High Prosecutors' Office before retiring in 2009. He later joined a law firm and earned his Ph.D. from Dangook University with a thesis examining illegal insider trading.
It was during his private career that he almost lost his life. After Park defended his client successfully, the defeated opponent attacked him outside his office building. While warding off the assailant, Park suffered a gash to his neck, according to media reports at the time.
When Park wasn't in the courtroom, he was blogging about the teachings of Confucius. He describes himself on the blog as a "warm and uncompromising" person who wants to "build a just society."

After being named special prosecutor last year, he assembled a 105-member team to investigate allegations that eventually triggered her impeachment and the arrests of members of her inner circle and Samsung's Lee. Samsung denies any wrongdoing by the conglomerate or Lee, who remains jailed on charges of bribery and embezzlement.
Still, there are many who oppose his efforts. Some retirees, who see how far the nation has come since the ruin of the Korean War, view him as a misguided, reckless man who's unfairly targeting the Samsung heir.
"We should save people like him for the sake of the economy," said Choi Dong-wook, 77, a former pharmaceutical company worker.
As crowds formed to rail against prosecutors, police provided bodyguards for Park. The cases he pursued will anchor the front pages and newscasts for months as they move through the courts.
When he was appointed special prosecutor, Park said he knew the magnitude of what he was about to undertake. During a local radio interview, he said that prompted him to hesitate at first.
"I reflected on my life," he said. "When there was a request to investigate wrongdoings, I could not refuse. That would go against the principles I have lived by."