Your Evening Briefing
Here are today's top stories
Bloomberg News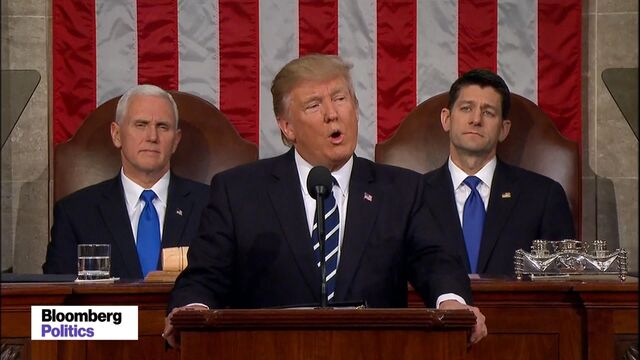 Want to receive this post in your inbox every afternoon? Sign up here.
Good afternoon. Today the world is evaluating President Trump's first address to Congress. (Too long, didn't watch? There's a 3-minute recap, above.) We're also looking at potential presidents and candidates in Mexico and France, and even the next presidential election in the U.S. Oprah has some thoughts on the latter position. –Emily Banks
Carlos Slim is $16 billion poorer but a whole lot more popular. No one has lost more financially during Trump's rise than the Mexican telecom magnate. On June 15, 2015, Slim's personal fortune stood at just under $67 billion. Today, it's about $51 billion. The very same forces—Trump's tough talk on Mexico—that are shrinking his fortune are also boosting his popularity at home. So much so that he is now talked about wistfully as a candidate in next year's presidential election.
Trump cast aside the dark rhetoric of carnage and conflict that defined the start of his administration and left in its place a recitation of familiar campaign promises with few details on how he'd turn them into reality. His address to Congress on Tuesday featured an Obamacare repeal, a $1 trillion infrastructure plan, an immigration crackdown and a defense buildup. The speech fell far short of providing direction–what many voters, lawmakers and investors said they wanted to hear.
Bernstein: Trump struck a better tone. So what? "For a president giving one of his few major speeches in support of his legislative agenda, substance matters. Trump came up as short as ever," Jonathan Bernstein writes for Bloomberg View. "Whether it was taxes, health care, immigration, or infrastructure, the speech wasn't just light on details; it was almost entirely lacking in them. Which would be okay if Trump already had, say, a health care and a tax plan."
Oprah realized being president doesn't require experience. Oprah Winfrey discussed whether she would run for president and revealed her surprise at the election of Donald Trump, during the season two premiere of "The David Rubenstein Show: Peer-to-Peer Conversations" on Bloomberg Television. Like Trump's speech Tuesday night, though, she was short on details.
Francois Fillon vowed to stay in the French presidential race even if charged with misuse of public funds, ending a tumultuous morning in which a canceled campaign event triggered speculation he would pull out. The Republican candidate has been called in to speak to judges as part of an investigation for possible abuses when he hired his wife as his parliamentary assistant. Such a summons is normally the first step in being charged. Here's a guide to the probe.
Uber's CEO got more than he bargained for when he ordered a ride with one of his company's drivers on Super Bowl Sunday. A dashboard camera in the car showed all was going smoothly until the pair became embroiled in a heated argument, with Travis Kalanick telling the driver to take responsibility for his problems. In a subsequent email to staff, he said: "This is the first time I've been willing to admit that I need leadership help and I intend to get it."
This year, invest in a better life story for yourself. Spending money on an experience—concert tickets, a surfing trip, even a simple meal with friends—is more likely to make us happier than buying a fancy watch, car, or piece of real estate. With that in mind, here are a few ways to get lasting value out of your bonus, no matter how much time you have: a long weekend, a week or even a month.

Before it's here, it's on the Bloomberg Terminal.
LEARN MORE