Photographer: Andrew Harrer/Bloomberg
business
Your Evening Briefing
Here are today's top stories
Bloomberg News
The evening briefing will soon be available in your inbox every early evening. To be among the first to get it, sign up here.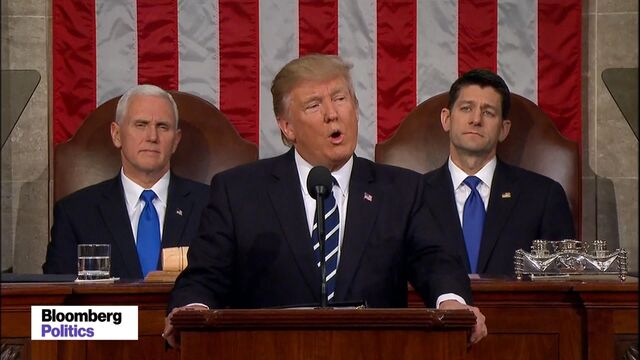 Donald Trump drew standing ovations during his 61-minute speech to Congress but elicited a more tepid reaction from investors, who already are turning their focus to the timing of the next U.S. interest-rate hike. Offering few new proposals and neglecting to mention Russia, financial regulations or the federal deficit, the president failed to mention just how he would finance his grand plans. Nevertheless, his measured delivery won immediate applause among political pundits. For analysis of events as they unfolded, check out Bloomberg's blog. —Kristine Servando
Uber's CEO got more than he bargained for when he ordered a ride with one of his company's drivers on Super Bowl Sunday. A dashboard camera in the car showed all was going smoothly until the pair became embroiled in a heated argument, with Travis Kalanick telling the driver to take responsibility for his problems. In a subsequent e-mail to staff, he said: "This is the first time I've been willing to admit that I need leadership help and I intend to get it."
Stock rally puts spotlight on newly minted billionaire. Wang Wei, minted China's third-richest man by the listing of the nation's biggest courier service, personally paid bonuses to employees via a payment app that also lets them buy securities. About 20,000 stock trading accounts have been opened by S.F. Holding employees since Friday, and they were then used to buy the company's shares, according to people familiar with the matter.
This is where the ultra-wealthy will live. New York, Shanghai, Beijing and even Brexit-stung London will lure the most high net-worth individuals in the next decade, according to a new wealth report. Playgrounds for the super-rich will be in demand as the number of people with $30 million or more—currently about 193,000 globally—exceeds 275,000 by 2026. The world's billionaires' club will also see its numbers swell, from about 1,900 in 2015 to a predicted 3,000 during the next 10 years.
Malaysian tycoon's soccer teams for sale. The embattled owner of Cardiff City, Vincent Tan, is throwing in the towel after six years. He's looking to dump the one-time Premier League club following losses on the field and off, and to sell his stakes in soccer teams from the U.S. to Belgium. The Cardiff sale may delight diehard fans, who howled at Tan's efforts to raise the team's global profile, including changing the color of the Bluebirds' jersey to red.
The great Australian growth comeback may not be as great as it seems. The country avoided a recession on a boost in household spending and a rebound in commodities. But the robustness of the Australian consumer is questionable: wage measures were miserable and household debt is at a record high. 
Top hedge funds reveal their best bets for 2017. What risks should you be watching for this year? Where do the best opportunities lie? To help you navigate the markets, we asked managers behind some of Bloomberg's 2016 list of the 50 best-performing hedge funds for their advice.
Move aside Hollywood. While much of the world munches on popcorn as a steady stream of Hollywood blockbusters flickers by, the Japanese are shunning those hits. Disney claimed all five of the highest-grossing movies worldwide in 2016, but the top spot in the world's fourth-largest box office was a body-swapping, gender-bending animated coming-of-age story, beating out "Captain America: Civil War" and "Rogue One: A Star Wars Story."

Before it's here, it's on the Bloomberg Terminal.
LEARN MORE