Trump 'Credit Card' Spending Seen Pressuring Fed, Hurting Growth
By and
Allianz's Dwane says 'nervous' about U.S. equity valuations

He recommends junk bonds, emerging market debt holdings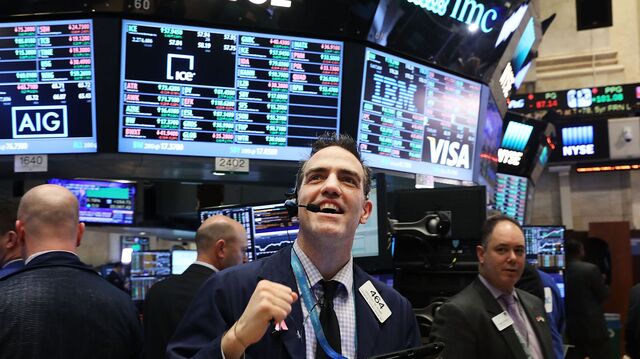 Investors who bid up stock prices on optimism about President Donald Trump should be on guard for the risk that deficit spending forces the Federal Reserve to tighten policy in a way that limits economic expansion, said Neil Dwane, a global strategist at Allianz Global Investors.
"The Fed is going to raise rates," Dwane said Wednesday in an interview on Bloomberg Television. "And the more Trump gets going, and the more that Congress gives him the credit card, the more Janet Yellen is going to have to raise rates," he said, referring to the central bank's chair.
The S&P 500 Index surged to another record Wednesday, extending its advance since Trump's election. Dwane said the rally is fueled partly by investors who shifted to stocks because they are concerned that interest rates will rise, pushing down the value of bonds. He also cautioned against expecting an immediate jolt from Trump's plan to invest more on infrastructure and the military.
"Even the defense spending will take time to feed in," Dwane said. "So I think the chances are that economic growth remains dull here in the U.S."
Fed policy makers have been projecting three interest rate increases this year after keeping their benchmark at less than 1 percent since 2008. With Trump pledging tax cuts in addition to his spending plans, the central bank may need to act as many as five times to prevent the economy from overheating, according to Dwane. That could discourage borrowing in a country that has come to depend on it, he said.
'Levered Economy'
"We know the U.S. is a levered economy, we know the housing market and the consumer is very sensitive to the level of rates that they are charged," Dwane said. "All that feels to me like a natural brake on some of the positives that will come out of some of Trump's policies."
Investors looking for U.S. stocks should consider industries that are positioned to endure an economic slump, such as tobacco, said Dwane. There may also be opportunities in U.S. junk bonds along with debt in emerging markets.
"I'm nervous, with the political calibration, how much further equities can really go," Dwane said. "The value lies outside the U.S. You have a strong dollar, and equity markets around the world are much less stretched in valuation than the U.S."
Before it's here, it's on the Bloomberg Terminal.
LEARN MORE