Trump CMS Nominee Gets Second Vote After Tie in Senate Committee
By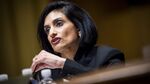 The Senate Finance Committee will vote again Thursday on President Donald Trump's nominee to head U.S. health programs for the elderly, poor, and disabled after an initial tally resulted in a tie.
Members present Wednesday voted 9 to 9 on whether to send the nomination of Seema Verma to the full Senate for confirmation as head of the Centers for Medicare and Medicaid Services. The Senate Finance Committee will reconvene on Thursday, said Chairman Orrin Hatch, a Republican from Utah.
CMS is responsible for implementing the Affordable Care Act, often called Obamacare, which Trump and Republicans have vowed to repeal and replace. The president repeated his campaign promise to undo the law in his first address to Congress Tuesday night, offering few new policy details.
"The way to make health insurance available to everyone is lower the cost of health insurance, and that is what we are going to do," Trump said.
Verma helped craft Indiana's expanded Medicaid program, which requires beneficiaries to contribute to health savings accounts, and has helped other states design Medicaid expansion waiver programs. In a confirmation hearing before the committee on Feb. 16, she advocated for flexibility for states and individuals to make choices about health care, and said the federal government's role should be more limited.
In the hearing, she gave little detail on her views of CMS's programs, which cover about 100 million people, saying that their future is a matter for Congress to determine. 
— With assistance by Steven T. Dennis
Before it's here, it's on the Bloomberg Terminal.
LEARN MORE